It's set off a cascade of problems.
Early Tuesday, large sections of the Nova Kakhovka dam and hydroelectric power plant in southern Ukraine gave way. Since 1956, the dam has pinched the Dnipro River, creating a massive reservoir upstream as far as Zaporizhzhia and, downstream, a succession of towns and villages along the river terminating in Kherson, all of which could now be flooded.
Ukrainian President Volodymyr Zelenskyy has accused Russian forces of blowing up the dam–a claim US intelligence reportedly appears to support. The Kremlin, which currently controls the area around the dam, has blamed Ukrainian forces.
Below, Atlantic Council experts answer our most pressing questions about what the damaged dam means for the ongoing war.
1. If Russia is behind the dam collapse, what would it reveal about Russian strategy and tactics at this stage in the war?
That they have no red lines that can't be crossed and that they have no regard for human lives or ecology. I'm afraid that if the Russians are capable of blowing up such a large piece of critical infrastructure, they're also capable of striking at the occupied Zaporizhzhia nuclear power plant—the consequences of which would be horrific. There is little left in the West's toolbox to restrain Russia, but a tightening of the noose of sanctions and providing Kyiv with all the fighting kit it is asking for would be a logical starting point.
—Michael Bociurkiw is a Ukraine-based nonresident senior fellow at the Atlantic Council's Eurasia Center.
It would reveal nothing new compared with what we have already known about Vladimir Putin's Russia and its efforts to destroy the Ukrainian state and the Ukrainian people. Putin's regime has already systematically committed crimes against humanity and pursues a policy of genocide, showing total disregard for human lives. Destruction of the Nova Kakhovka dam appears to be one more piece of evidence of the dark nature of Putin's regime—a terrible and extremely dangerous act aimed at inflicting maximum suffering on people and maximum damage on the environment. Putin is still trying to escalate and terrorize Ukraine and its partners. It's long overdue that we deny him this possibility.
—Oleh Shamshur is a nonresident senior fellow at the Atlantic Council's Eurasia Center and a former Ukrainian ambassador to the United States.
2. What are the implications for the environment and other parts of Ukraine such as Kherson and Crimea?
Ukrainian officials are already reporting the deaths of zoo animals near the dam. Some eighty settlements are at risk of substantial flooding and countless hectares of land are in the path of floodwaters. What is more, the flooding could trigger another wave of displaced people or asylum seekers. If people in the West feel they won't be impacted, they should think again and brace themselves for higher food prices and a fresh wave of refugees.
—​​Michael Bociurkiw
Since last fall, Ukraine has implored the international community to prevent a Russian terrorist attack on the Nova Kakhovka dam. The immeasurable suffering today should be a wakeup call regarding how Ukraine's critical energy infrastructure must be protected in the future and the importance of trusting Ukraine's experts on risk assessment and mitigation strategies, in particular regarding nuclear power plants. While there are no evident immediate risks to the Zaporizhzhia nuclear plant, which relies on water from the reservoir for cooling and operations, its continued safety is anything but guaranteed. The international community should be treating Russia's apparent escalation as a ramp-up for broader genocide and ecocide in Ukraine. Western allies, including multilateral bodies such as the International Atomic Energy Agency, cannot entrust Zaporizhzhia's safety and that of other massive energy installations to the Russians.
—Olga Khakova is the deputy director for European energy security at the Atlantic Council's Global Energy Center.
The destruction of Ukraine's Nova Kakhovka dam will result in short- and long-term environmental, humanitarian, military, and economic consequences. Given the global impacts, especially for Global South food security, Russia, if it was behind the destruction, has cemented its reputation as one of the world's largest orchestrators of civilian suffering.
Damage is still unfolding, but there are fears that hundreds of thousands among Ukraine's already-battered civilian population may be left without their homes, water, electricity, or other access to vital infrastructure in the Kherson region, Crimea, and beyond. Known disaster-related flood risks—like mold-caused health impacts and downed power lines in the water—are exacerbated by reports of Russian troops shelling evacuations, floating mines, and more than a hundred tons of engine oil polluting the Dnipro River.
Europe's largest steppe, Askania Nova, is endangered, along with the native zebras, buffaloes, and wildebeests that call the steppe their home. Untold ecosystem damage may unfold. Springtime births make animal populations and the ecosystems they support especially vulnerable. In light of the economic damage to Ukraine's agribusiness and metallurgy industries, which require extensive water supplies, Western governments will need to take decisive action to redirect frozen Russian assets for Ukraine's recovery. Concerns about the long-term cooling of the Zaporizhzhia nuclear power plant will rise.
—Kristina Hook is a nonresident senior fellow with the Atlantic Council's Eurasia Center specializing in genocide and mass atrocity prevention, emerging technologies, and post-conflict reconstruction.
3. Could the dam destruction constitute a war crime?
​​As more details are clarified, the legal implications potentially could be vast, with prohibitions of attacks on such facilities inscribed in the Geneva Conventions. Concrete steps on accountability for war crimes are needed, and global humanitarian aid must surge. None of the ecological crimes unfolding over the past sixteen months were inevitable, given Ukraine's robust environmental management and monitoring prior to 2014. All trace back to Russia's nearly decade-long war against Ukraine. The ensuing damage to Ukraine and the global economy lies squarely at Russia's feet.
Given months of Ukrainian and international warnings about the possibility of Russia attacking the dam, global condemnation is not sufficient. Anything less than a tangible response alerts the Kremlin that it can get away with the environmental equivalent of a weapon of mass destruction, encouraging Russia to climb further up an escalation ladder aimed directly at Ukraine's civilians. This day offers a painful snapshot of Ukrainian life under Russia's terror: nine months of violent occupation in Kherson, with torture camps, rape, and summary executions, followed by relentless shelling, and now, apparently, flooding—losing everything in a day.
—Kristina Hook
Destruction of the dam absolutely violates the Geneva Conventions and fits the definition of a crime against humanity as described in the Rome Statute of the International Criminal Court. So it should be recognized as such and its perpetrators should be held accountable. We're seeing a developing humanitarian disaster, primarily due to the massive displacement of the population of flooded areas and a sharp drop in the supply of drinking water. If Russia committed the destruction, it would be one more reason to see Putin and company in The Hague, hopefully in the near future.
—Oleh Shamshur
Further reading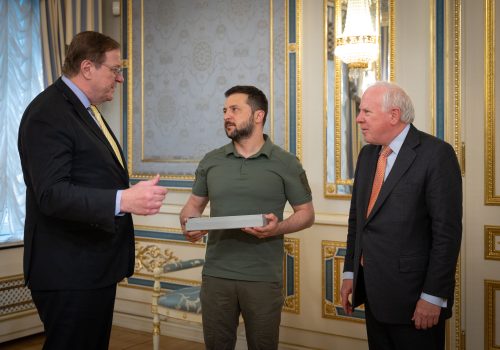 Sun, Jun 4, 2023
Inflection Points By Frederick Kempe
An Atlantic Council delegation's trip to Kyiv this week highlighted how important additional support is to Ukraine.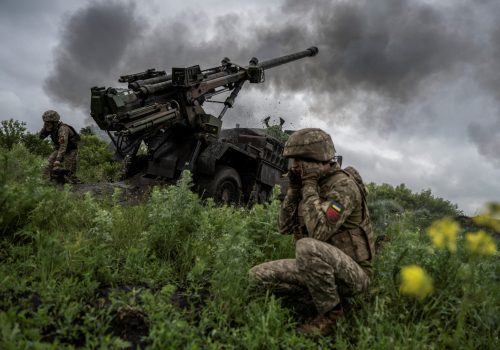 Tue, Jun 6, 2023
UkraineAlert By Tennyson Dearing
Ukraine's summer counteroffensive is an important moment in the war with Russia but it is critical to maintain a sense of perspective and underline the need for long-term Western backing, writes Tennyson Dearing.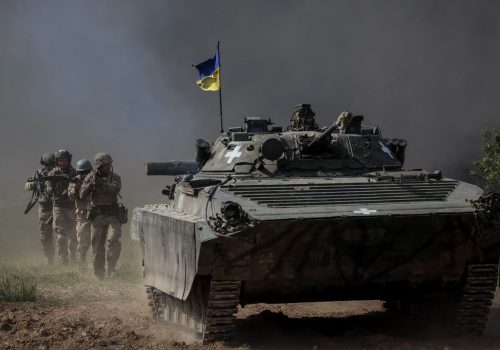 Tue, May 23, 2023
UkraineAlert By Richard D. Hooker, Jr.
Ukraine's coming counteroffensive has a great chance of succeeding due to a number of factors including superior leadership, equipment upgrades, and strong morale, writes Richard D. Hooker, Jr.