What's behind Erdogan's backing of Sweden's NATO bid?
The wait is (nearly) over. After more than a year of ups and downs since Sweden applied to join NATO in May 2022, Turkish President Recep Tayyip Erdoğan has agreed to back Stockholm's bid to become the Alliance's thirty-second member. The announcement came on the eve of the NATO Summit in Vilnius after Erdoğan, NATO Secretary General Jens Stoltenberg, and Swedish Prime Minister Ulf Kristersson held a lightning round of negotiations. Erdoğan agreed to advance ratification of Sweden's NATO accession to Turkey's legislature, with Hungary expected to follow suit to complete the process. What changed Erdoğan's mind? What's next for the Alliance? Our experts on the ground in Vilnius and beyond share their insights.
TODAY'S EXPERT REACTION COURTESY OF
How done is this deal?
The joint memorandum from Monday's meeting spells out increased counterterrorism efforts by NATO to address Turkey's security concerns and fresh support from Sweden for Turkey's bid to join the European Union, among other provisions—and came as a surprise, following Erdogan's skeptical comments in recent days about the prospects for an agreement.
"It is a typical Erdoğan move to take a maximalist position in a high-stakes negotiation, show readiness to walk, then compromise for progress on key demands," Rich tells us.
Not (yet) in writing is a looming deal for Turkey to buy F-16 fighter jets from the United States, a likely carrot for Turkish approval of Sweden's membership. "The practice of international relations is not an art for the purist," says Dan. "If the Biden team made some understanding, I would look favorably on it."
Chris, who's in Vilnius, notes that Erdoğan is only sending the decision on Sweden's NATO accession to the Turkish parliament, which his party controls, so this is not a done deal. Erdoğan made a show of lending his support to an invitation for Finland and Sweden to join NATO a year ago in Madrid before drawing out the process until now. "There is a non-zero chance that some intervening circumstance (like another public Quran burning [in Sweden]) could serve as pretext for derailing the process again," he says. "I want to be optimistic, but worry that I have seen this movie before. NATO should not spike the football until it is over the goal line."
With the action now moving to the Turkish legislature, Erdoğan "retains the ability to kill or delay accession if Sweden backs off on counterterror" measures that Turkey wants or if an F-16 deal doesn't materialize, Rich adds.
Nevertheless, there was a palpable sense of celebration and relief in Vilnius. "It is unclear how long it will take, but the agreement undoubtedly removes the risk of Sweden falling into a limbo situation—that is, being close to, but not fully in, the Alliance," Anna tells us from the summit.
Subscribe to Fast Thinking email alerts
Sign up to receive rapid insight in your inbox from Atlantic Council experts on global events as they unfold.


The Wagner factor
Erdoğan's turnabout comes two weeks after mercenary leader Yevgeniy Prigozhin's short-lived mutiny in Russia—and on the same day that news broke of Russian leader Vladimir Putin meeting with Prigozhin in the days after the revolt—developments that "suggest [Putin] regime weakness," according to Dan.
"Erdoğan's reaction to the failed 2016 coup in Turkey showed no such mixed messages," Dan adds. In choosing to advance Sweden's efforts to join NATO, "Erdoğan might have concluded that betting on Putin after the mutiny seemed less wise."
Rich argues that the Prigozhin drama was not much of a factor, since this agreement was all part of a long-term push for NATO to help address Turkish security concerns such as the Kurdistan Workers' Party (PKK): "The Turks need a functional relationship with Russia but see more common cause with the West; the approach to Sweden should be seen in those terms, as how to prove bona fides to the Western Alliance while extracting necessary concessions to their own security."
If its security concerns are addressed, Turkey actually favors a bigger NATO with countries such as Sweden, Finland, Ukraine, and Georgia, Rich tells us, "because by NATO structure and bylaws" Turkey, like other Alliance members, "gets a veto on the world's most powerful security organization." So "the bigger the better."
All for one
"The deal means that the Vilnius Summit is off to a good start," Anna says, as the Alliance "faced the risk of appearing fragmented and weak" with its members not yet fully united around Sweden's NATO membership. Now focus turns to a possible membership roadmap and security guarantees for Ukraine, where "tough decisions" await, she says.
Erdoğan also gets to bask in the limelight. "He has lost no real leverage," Rich notes, "but gained a tremendous optic of Turkey supporting the Atlantic Alliance."
Further reading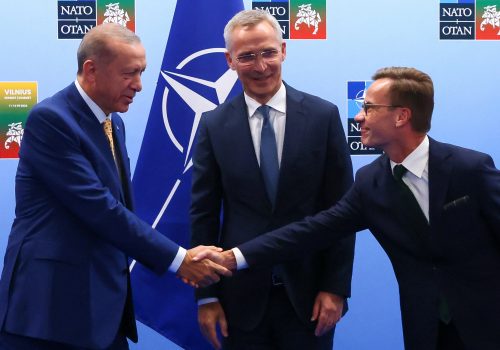 Mon, Jul 10, 2023
New Atlanticist By Atlantic Council experts
Atlantic Council experts weigh in on what's behind this dramatic and consequential turnabout from Erdoğan and what to expect next.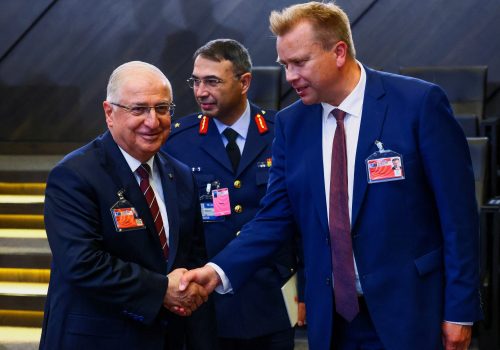 Sat, Jul 8, 2023
TURKEYSource By Rich Outzen, Pınar Dost
The long-awaited fighter jet deal is a puzzle piece in a broader strategic calculation about Ankara's role in NATO's Southeast.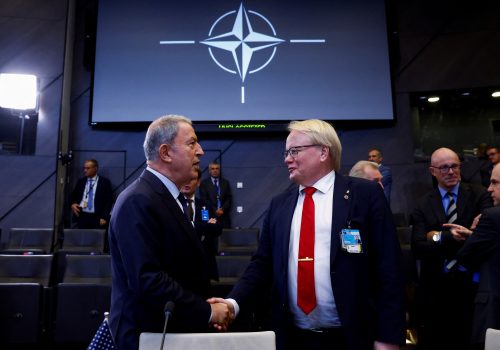 Tue, Apr 4, 2023
TURKEYSource By Grady Wilson, Pınar Dost
Turkey is not yet ready to greenlight Sweden's NATO accession but significant progress has been made. Here's a possible outline of a compromise.