Event recap
On June 5, 2020, the Atlantic Council Global Energy Center hosted Heath Taylor, government solutions manager at SICPA, for a discussion about fuel integrity programs—initiatives that combat the adulteration and illicit trading of fuel—and concrete countermeasures to fight fuel-related criminal activity. In his presentation, Taylor highlighted key conditions for successful fuel marking programs and the importance of data collection for targeting fuel smuggling and adulteration. Randolph Bell, director of the Atlantic Council Global Energy Center, provided introductory remarks and moderated the discussion.
Taylor explained that fuel marking programs, which add molecular markers to the fuel mix at specific points in national supply chains, allow governments to measure and detect adulteration or smuggling activity by comparing marker concentrations at different points of distribution. SICPA plays a crucial role in these programs. By detecting adulteration and smuggling, SICPA's fuel marking technology helps governments recoup lost revenue from hydrocarbon taxes.
According to Taylor, successful fuel marking programs must be paired with a regulatory regime that outlines stakeholder and inspector obligations while ensuring distribution networks continue to operate normally. He added that SICPA tailors implementation programs to country-specific physical infrastructure, digital capabilities, and national priorities. SICPA also provides inspection equipment that produces immediate, court- admissible results to partner countries. Inspection data can also be combined with national information technology systems and databases to provide greater insight into the country's hydrocarbon supply chain. Taylor noted that as the number of datapoints increases, so do SICPA's capabilities. With enough data, SICPA can highlight geographic areas with high rates of illicit fuel smuggling. Governments can then use that information to direct targeted inspections and monitoring activities.
During the Q&A period, Taylor addressed the impact of the COVID-19 pandemic on fuel marking programs and other potential applications of this technology. According to Taylor, the COVID-19 pandemic presents an opportunity for governments to reassess their hydrocarbon supply chains and implement fuel marking programs to increase tax revenue from the oil and gas sector. He cautioned that fossil fuel subsidies in COVID-19 aid packages could create greater incentives for fuel fraud and smuggling by increasing price differentials between countries. Furthermore, Taylor spoke to the potential role of fuel marking in sanctions enforcement and indicated that fuel marking can detect the introduction of illicit fuels into the supply chain, which can help governments flag locations where sanctioned fuels enter the system. He also explained that similar marking technologies could be applied to renewable energy supply chains to determine, for example, proof of origin for inputs such as hydrogen. However, Taylor cautioned that renewable energy applications are currently exploratory and will change as criminal patterns emerge.
Featuring


Heath Taylor is a government solutions manager at SICPA, specializing in the domain of fuel integrity technologies.
Before joining SICPA in 2010, Heath had worked for seventeen years as a senior software engineer and team leader for multiple companies spanning domains such as tax stamps traceability, workflow management, print and packaging, marketing services, and content management systems. Heath is now is responsible for presales and technical analysis for SICPAs Fuel Integrity Solutions. He graduated from the Cape Peninsula University of Technology (Previously Cape Technikon) in Cape Town, South Africa.
Related experts
Related content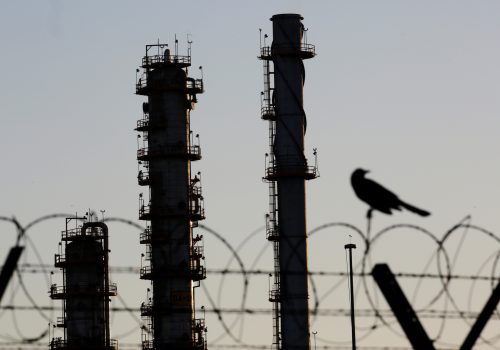 Sat, May 16, 2020
Downstream oil theft has become a global problem. Since most of the world's energy systems still rely on oil, fuel smugglers are nearly always able to find markets for their goods. Moreover, as oil is not inherently illegal, it is generally an easy product to move, buy, and sell. Profits from oil theft are frequently used to fund terrorism and other illegal activities.
Report by Dr. David Soud with contributing authors Dr. Ian Ralby and Rohini Ralby

Wed, Mar 20, 2019
This post is the first in a series of three that will focus on 1) defining, 2) mapping, and 3) addressing the invisible supply chain. In 2014, the Wall Street Journal published a story detailing how the Saltpond Oil Field off the coast of Ghana was exporting as much as five times the crude oil […]
EnergySource by Dr. Ian Ralby, Dr. David Soud, and Rohini Ralby

Mon, Apr 8, 2019
This post is the third in a series of three that focuses on 1) defining, 2) mapping, and 3) addressing the invisible supply chain. You can read the first and second posts here. Criminals have the advantage of being agile. They are unencumbered by the constraints that impede the governments and institutions arrayed against them. A criminal […]
EnergySource by Dr. Ian Ralby, Dr. David Soud, and Rohini Ralby
Learn more about the Global Energy Center
Subscribe to DirectCurrent
Sign up for the Global Energy Center newsletter to stay up to date on the program's work.