As the global community continues to grapple with the coronavirus (COVID-19), the Atlantic Council is open for business. Our business, meetings, and events, however, are occurring virtually. For more information, please read an update from our President and CEO.
Peace in Afghanistan will only be durable if it includes the full and meaningful participation of the Afghan people, in particular, that of Afghan women. Research has shown that the participation of women in peace negotiations and processes is critical to the success of any peacebuilding process, in line with the United States' Women, Peace, and Security Act as well as UN Security Council Resolution 1325. Just as important is the essential role that women's leadership will play not only in achieving peace, but also in sustaining it. Afghanistan has witnessed huge changes in the last two decades — as an example, women make up 21 percent of all civil servants and 16 percent of the civil service's senior management. However, with the increase in targeted killings of civil society and media voices — often targeting Afghan women specifically — many suspect that that the Taliban has not changed its position on women's rights, leading to fears regarding what a peace deal would really mean for the gains Afghan women have worked so hard to achieve.

For Afghanistan to rebuild and for peace to be sustainable, the country will require a diversity of ideas, experiences, leadership, and action — from all of its people — to move forward. Such progress is impossible without the dedicated, long-term involvement of women, which allows for shifts in both long-held beliefs and practices, including those of the Taliban. This will ultimately allow peace to be not only enduring, but create a shared vision of Afghanistan's future that puts Afghan women at the center.
Join the Atlantic Council's South Asia Center, the U.S.-Afghan Women's Council (USAWC), and the American Council on Women, Peace and Security (ACWPS) on Tuesday, March 23 from 12:00 p.m. to 1:00 p.m. US ET / 8:30 p.m. to 9:30 p.m. KBT for a conversation on how Afghan women and their US partners have worked to improve women's leadership opportunities in Afghanistan, what these improvements mean for Afghan women, and the critical role women play in Afghanistan's aspirations for long-term peace.
This will be the third and final event in a series of conversations on women's gains in Afghanistan. The first conversation examined economic gains made by Afghan women, while the second conversation focused on the impact of healthcare access and infrastructure for the benefit of Afghanistan's women and the country's future.
A recap of this event can be found here.
Featuring
Minister Hasina Safi
Acting Minister for Women's Affairs
Government of Afghanistan
Fatima Gailani
Member, Afghan Negotiating Team;
Member, Constitutional Loya Jirga;
Commissioner, Constitutional Review Committee;
President, The Afghan Red Crescent Society
Lt. Colonel Natalie Trogus
Former Advisor, Afghan Ministry of Defense;
Former gender advisor, U.S. military;
U.S. Marine Corps
Introductory remarks by
Irfan Nooruddin
Director
Atlantic Council's South Asia Center
Concluding remarks by
Sara Greengrass
Executive Director
U.S.-Afghan Women's Council
Moderated by
Ambassador Paula Dobriansky
Senior Fellow, Harvard University Belfer Center;
Former U.S. Under Secretary of State for Global Affairs;
Vice Chair, Scowcroft Center for Strategy & Security, Atlantic Council


The South Asia Center serves as the Atlantic Council's focal point for work on the region as well as relations between these countries, neighboring regions, Europe, and the United States.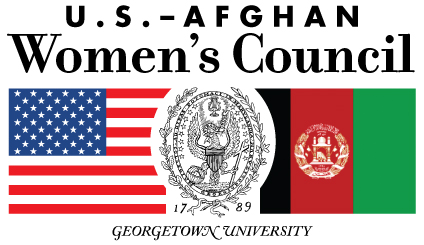 The U.S.-Afghan Women's Council (USAWC) is a non-partisan public-private partnership that convenes governments, civil society and the private sector around the goal of supporting Afghan women and girl's education, healthcare, economic empowerment and leadership.

The American Council on Women Peace and Security helps policymakers with hard hitting analysis and enlightened scholarship that ensures the meaningful participation of women.
Related content