Moving out: A comprehensive assessment of European military mobility
Report by Task Force Co-Chairs: General Curtis M. Scaparrotti, USA (Ret.) and Ambassador Colleen B. Bell
Related Experts: Wayne Schroeder, Clementine G. Starling, Olivier-Rémy Bel, Ian Brzezinski, Hans Binnendijk, Marta Kepe, Timo S. Koster, Franklin D. Kramer, Erwan Lagadec, Barry Pavel, Alex Serban, Christopher Skaluba, Alexander Vershbow, Damon Wilson, Conor Rodihan, John R. Deni,
NATO has adapted and enhanced its footing for defense and deterrence in the face of Russian aggression in Europe, improving the capabilities and readiness of its forces. As the Alliance continues to rely on its ability to rapidly reinforce, the challenges of military mobility and the requirements needed to move tens of thousands of troops across Europe have drawn increased attention. To support the rapid movement of forces across the European continent and beyond, nations, NATO, and the European Union are individually and collectively working to mitigate the many legal, diplomatic, and infrastructure barriers to military mobility.
The Atlantic Council's Task Force on military mobility was established in April 2019 to assess the adequacy of military mobility efforts in Europe to support the rapid reinforcement of allied forces across the continent. The Task Force was co-chaired by former supreme allied commander Europe and former commander of US European Command General Curtis Scaparrotti and former US Ambassador to Hungary Colleen Bell, and comprised former and current senior US and European defense officials and experts.
Comprising a year-long study, drawing on consultations with NATO, EU, and national government officials, this Task Force report outlines a set of concrete recommendations which together represent a critical next step to enhance a twenty-first-century conventional deterrence posture throughout Europe.
"Moving Out: A Comprehensive Assessment of European Military Mobility" thoroughly assesses current European military mobility efforts by nations, NATO, and the EU; identifies gaps in existing progress; and provides actionable recommendations to reinvigorate and improve mobility for the short and long term. This in-depth study, the first of its kind to address the full scope of European military mobility efforts and challenges, makes the case for greater action on military mobility across Europe and identifies areas the Task Force believes require greater attention.
The report was written by project director Wayne Schroeder, PhD, project rapporteur Clementine G. Starling, and Conor Rodihan in research support, in consultation with the Task Force's members.
Subscribe for events and publications on NATO
Sign up for updates from the Atlantic Council's Transatlantic Security Initiative, covering the debate on the greatest security challenges facing the North Atlantic Alliance and its key partners.
Related in-depth research & reports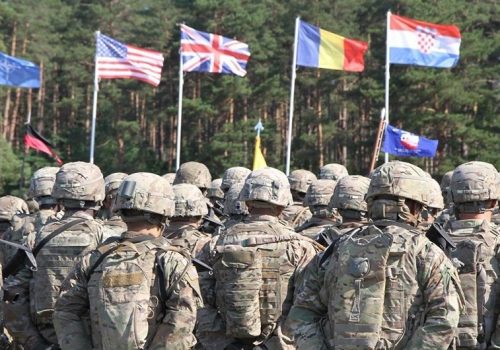 Thu, Feb 7, 2019
To provide an independent perspective, the Atlantic Council established a task force to assess the broader political and military implications of an enhanced US posture in North Central Europe. The report's recommendations, guided by several key principles, are a result of the task force members' agreement that enhancements to the US presence in the region could, and should, be undertaken to bolster deterrence and reinforce Alliance cohesion.
Report by Ambassador Alexander R. Vershbow (Ret.) and General Philip M. Breedlove, USAF (Ret.)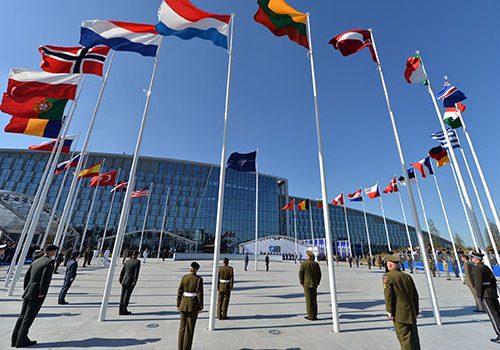 Thu, Apr 4, 2019
The need to outfit and equip NATO for great power competition, as well as increased pressure to invest more in defense, provides an opportunity to strengthen NATO for the future. Yet the path forward is still unclear. What investments should be prioritized to ensure that NATO retains its fighting mindset well past its seventieth anniversary in 2019?
NATOat70 by Wayne Schroeder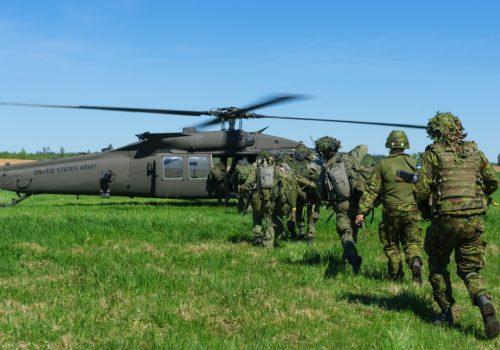 Tue, Jun 2, 2020
Nations in Europe's northeast cooperate through a variety of multilateral security and defense arrangements. "Geometries of Deterrence" assesses how these arrangements individually and collectively contribute to deterrence and defense in Northeastern Europe.
In-Depth Research & Reports by Hans Binnendijk and Conor Rodihan