Watch the full event
Event transcript
Uncorrected transcript: Check against delivery
Speakers
H.E Arifin Tasrif
Minister of Energy and Mineral Resources, Republic of Indonesia
Introducer
Reed Blakemore
Deputy Director, Global Energy Center, Atlantic Council
REED BLAKEMORE: I think as we've seen throughout the past two days of our agenda, the energy trilemma is a key theme that we're all working through, defining not just the energy space this year but will certainly define the energy space looking out to 2050 and likely beyond. The move to a minerals-intensive clean-energy system creates enormous demand for new resource capacity, new challenges for environmental stewardship, and of course more broadly a new paradigm for global energy security. It's absolutely imperative that we address these emerging issues head-on and [that] we do so quickly.
So, to that end, we're honored to be joined by a leader in this space, a key global actor in the critical mineral supply chain, to say a few words on this important topic. So please put your hands together and welcome the minister of energy and mineral resources of the Republic of Indonesia, His Excellency Arifin Tasrif.
MINISTER ARIFIN TASRIF: Good afternoon. I think this time is quite heavy time for us—after lunch, and I have to move from the previous place to this place. Thank you. Thank you for the opportunity.
Honorable Mr. Frederick Kempe, president and CEO of the Atlantic Council, thank you for inviting me to stand at this podium… Distinguished ladies and gentlemen: Critical minerals and their supply chains [have] become a bristling issue among economists. In this light, every country has various definitions and categorizations [for] critical minerals, including their criticalities, parameters, and analytical levels. Critical minerals are fairly limited and very much needed to support clean energy. Geographically, they are in several countries, and refineries [are] also in several countries. Therefore, global collaboration is needed to be able to produce the minerals [that are] needed to support [the] clean energy transition.
Indonesia has a policy to increase mineral-added value. Besides that, we have also to secure supply chains to fulfill our demand in order to reach our target [of] net-zero emissions by 2060. This policy is our noble intention so that our 207 million Indonesians could… benefit from mineral sources so that they may get much better living conditions than [before].
In the context of [the] global supply chain, Indonesia hopes not only to provide raw materials but to cooperate with other parties to develop large-scale downstream industries to create competitive outputs. We appreciate global players who have recently [invested] in Indonesia, such as… Freeport Indonesia [which invested] to build a copper smelter. So the smelting and the processing itself will be completed by—hopefully, within end of this year­. PT Vale, Whitford, and Huayou [are] to build an electric vehicle battery raw-materials factory; Eramet and BASF [are] to build an electric vehicle battery raw-material factory; [and] Contemporary Amperex Technology and LG [are] to build an electric vehicle battery raw material factory.
[Batteries are] very important for Indonesia, especially for transportation. We have about 140 million vehicles in land transportation, [and] 120 million of these are two-wheeled vehicles, [a number equal to] almost half of our population. So if we calculate one liter [of] consumption per motorcycle, [and] multiply by 120 million, it [equals] eight hundred thousand barrels [of] oil per day. So you can imagine how we burn. We subsidize the fuel but we are in the process to reduce, minimize, or even to be released from the subsidy. Besides that, we also have another advantage. Reduced [emissions] reduce the noise, which will also improve our health condition.
[It's] not only in land transportation; we also consider marine transport. Indonesia is [an] archipelagic [country]. We have about sixteen thousand islands. So I make a joke that we—by the process, this island will be reduced automatically. If we don't care about climate change, it will sink.
So [with] this significance, Indonesia forces several steps to enhance governance on clean energy. We implement policy on mineral exploration, especially critical minerals, through enhancing exploration, indexing rare-earth-elements inventories, [and supervising] mineral governance while maintaining environmental sustainability; and, second, [we] try to integrate [the] supply chain between mining and smelter facilities, as well as integrate the industrial users of mineral-processed products.
We would like to reiterate that Indonesia is ready to cooperate with partner countries to develop manufacturing facilities on critical minerals to support the energy transition. So [I] look forward to [cooperating] with you all.
Watch the full event
Further reading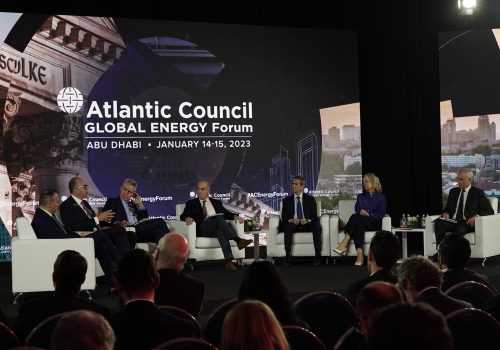 Sat, Jan 14, 2023
New Atlanticist By Atlantic Council
Top experts and policymakers at our Global Energy Forum lay out the energy implications of the war in Ukraine, global climate cooperation, and the COVID-19 pandemic.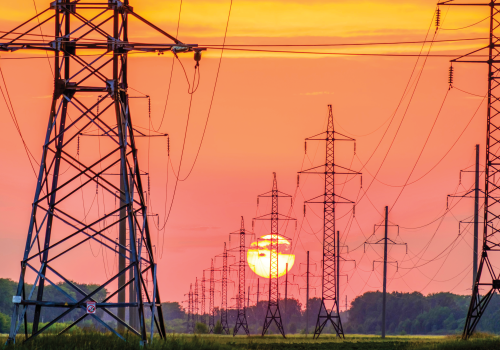 Fri, Jan 13, 2023
Global Energy Agenda By Landon Derentz, Christine Suh, Ameya Hadap, Paul Kielstra (Editors)
The third edition of the Global Energy Agenda provides context for the year that has passed. It features a survey of thought leaders in the energy sector, as well as a series of essays by the leading figures in energy, to set the energy agenda for 2023.