Call it a double whammy: The two-hit blow to the global energy system—dealt by the COVID-19 pandemic and Russia's war in Ukraine—is wreaking havoc, bringing uncertainty about the future of energy security and the pace of the energy transition.
But that's only spurred the world's most influential energy experts and policymakers to take another look at the needs of the energy system and devise new policies, practices, and standards to fill those needs. And from January 14 to 15, many of them gathered at the Atlantic Council's Global Energy Forum to lay out their solutions and call for urgent collaboration on improving energy security and accelerating progress toward climate goals.
Below are highlights from the event, hosted by the Global Energy Center in partnership with the United Arab Emirates Ministry of Energy and Infrastructure as part of Abu Dhabi Sustainability Week, and featuring leaders such as COP28 President-Designate Sultan Al Jaber and US Special Presidential Envoy for Climate John Kerry.
Editor's note: This article was updated on January 18 to note sponsors of the Atlantic Council's Global Energy Forum.
Explore the full event
---
The latest from Abu Dhabi
---
JANUARY 15, 2023 | 8:30 AM WASHINGTON | 5:30 PM ABU DHABI
European energy commissioner: Stronger green targets are coming amid gas supply challenges
"Both our presidents are willing to invest a lot to keep [the] transatlantic relationship," said Kadri Simson, the European Commission's commissioner for energy, as she brought a message of unity and optimism to close out the Atlantic Council 2023 Global Energy Forum.
Speaking with Richard Morningstar, founding chairman of the Council's Global Energy Center and former US ambassador to the European Union (EU), Simson addressed how the past year has endangered the bloc's energy and economic security in ways unseen in decades because of Russia's war of aggression in Ukraine. Simson explained that the EU's rapid action to reduce its natural gas consumption, efforts to grow renewable power capacity wherever possible, and support of diverse suppliers of liquefied natural gas (particularly the United States) enabled the bloc to pull through this winter. Though she acknowledged that the winter ahead could be even more challenging, she noted that "2022 was an extraordinary year for our renewable production… and targets for next year are even higher." Renewable energy expansion via the REPowerEU strategy surpassed all expectations.
She thus rejected the notion that the EU has abandoned the "Green Deal" and countered that the bloc is negotiating even stronger green targets right now. She also rejected the idea that the price cap on Russian seaborne oil, coordinated with the Group of Seven (G7) nations, was ineffectual at sixty dollars per barrel, saying the evidence suggests that Russia is selling oil at discounts well below this number. She added that she hopes to never have to trigger the newly developed natural gas pricing mechanism.
Simson was cooler, however, on the issue of the US Inflation Reduction Act—a source of mounting tensions throughout late 2022 over its perceived nationalistic provisions. She reasserted that the transatlantic relationship remains robust to the benefit of both sides and that any issues around unfair competition in the law can be solved through the existing EU-US working group on this issue. Her remarks suggested that, whatever 2023 may bring, Europe is fully prepared to weather the storm—and will do so alongside its friends and allies.
🧵 At the #ACEnergyForum in Abu Dhabi, 🇪🇺 Commissioner for Energy @KadriSimson explains Europe's three-pillar strategy to get rid of its dangerous dependence on Russian fossil fuels.

The first pillar is to diversify supply routes.

Learn more: ➡️ https://t.co/pE56Irkjte pic.twitter.com/P56w7FoVIM

— Atlantic Council (@AtlanticCouncil) January 15, 2023
---
JANUARY 15, 2023 | 7:15 AM WASHINGTON | 4:15 PM ABU DHABI
Tackling the biggest challenges for critical minerals supply chains—capacity, resiliency, and sustainability
As clean energy technologies proliferate, demand is soaring for critical minerals—but there is a two trillion dollar investment gap over the next fifteen years to finance supply chains for minerals needed to keep global warming below 2 degrees Celsius. Panelists including Indonesia's energy minister took on the best ways to resolve these questions on Sunday at the Global Energy Forum.
Read more
Dive into the research
JANUARY 15, 2023 | 7:00 AM WASHINGTON | 4:00 PM ABU DHABI
The next steps to harnessing hydrogen's potential
Is hydrogen the Swiss Army Knife of low-carbon energy? It may be too early to tell, but there are plenty of potential end uses for the fuel that point to the fuel's role in the long term, said a panel of private-sector hydrogen experts at the Global Energy Forum on Sunday.
Both Meg Gentle, executive director of High Impact Fuels, and Shuayb Ismail, associate partner and head of partnerships at Xynteo, agreed that hydrogen and e-fuels are not future visions; rather, these are usable fuels right available now with vast decarbonization potential in the right conditions. Gentle discussed her company's work in Chile producing "drop-in" e-fuels suitable for a variety of vehicles, both land and seaborne. High Impact Fuels' facility in Chile is powered entirely by wind energy resources available in the region and produces methanol. Ismail explained how his company assisted an Indian steel producer switch to green hydrogen to decarbonize its production methods, resulting in a 10 to 20 percent cost reduction. He emphasized that at Xynteo, "we truly believe that industry has to be the driver for the energy transition."
But there remain significant barriers to widespread hydrogen adoption. Joe Webster, Atlantic Council senior fellow, noted that there are a number of policy issues around hydrogen—especially around hourly matching, which would require hydrogen facilities to limit their use of electricity to an amount equivalent to the renewable energy they use in a given hour. Hussein Fouad El Ghazzawy, senior energy and industry consultant at LYNX, spoke from Egyptian and African perspectives. He cited that a recent European Investment Bank report showed that African clean-hydrogen production potential could reach fifty million tons per year by 2035. However, Africa remains tightly constrained by limited or insufficient infrastructure of all kinds. For global hydrogen economies of scale, further investments in Africa are needed, he said.
The panelists broadly agreed that the price of renewable energy is continuing to pose a challenge, as it plays a major role in high hydrogen costs. This is among the key areas where policymakers could potentially do more to support scaling of global hydrogen production.
Editor's note: Xynteo is a sponsor of the Atlantic Council's Global Energy Forum. More information on Forum sponsors can be found here.
---
JANUARY 15, 2023 | 5:30 AM WASHINGTON | 2:30 PM ABU DHABI
Achieving net-zero will require rethinking supply chains. Here's how to make it happen.
Value and supply chains are one of the hottest topics in the energy space ever since the onset of the COVID-19 pandemic. After realizing the energy system's vulnerability to disruptions amid a pandemic, is it possible to reconfigure global value chains toward a net-zero emissions future?
A group of private-sector and think-tank experts, as well as US government officials, considered what decarbonized value chains of 2030, 2050, and beyond might entail for sustainability at the Global Energy Forum on Sunday. Andrew Herscowitz, chief development officer of the US International Development Finance Corporation (DFC), asserted that "it's absolutely critical that all of us are playing a role in diversifying the supply chain."
The path there will require considering diverse energy systems and unique regional and country pathways to net-zero. Fahad Alajlan, president of the King Abdullah Petroleum Studies and Research Center, noted how dramatically the conversation around fuels such as natural gas and nuclear has shifted since the war in Ukraine began. He argued that the world cannot deploy a whiplash approach to how it perceives energy and energy supply chains every time a new crisis emerges. Lorenzo Simonelli, chairman, president, and CEO of Baker Hughes, and Christian Bruch, president and CEO of Siemens Energy AG, supported Alajlan's perspective. Simonelli reiterated that the key challenges are emissions—not a particular type of fuel—and thus there is no benefit for the public or private sector to be overwhelmed by arguments over certain energy sources. Herscowitz added that "[DFC] will finance gas projects… It's one of the reasons I'm here, to see what we can do."
Another key area of agreement was the need for energy efficiency throughout value chains, as well as thoughtful management of existing equipment. Bruch noted the risk of stranded assets—when a piece of energy infrastructure is not used for its full lifespan and thus becomes a financial loss—if the energy community fails to plan ahead and utilize what it has already.
The challenges to successfully transition supply chains to a net-zero world are thus substantial, but perhaps not insurmountable. Marisa Drew, chief sustainability officer at Standard Chartered Bank, described the need for unity and a frank discussion among all stakeholders on these very problems at the next United Nations Climate Change Conference, known as COP28, to unlock long-term, sustainable, and investable solutions.
Editor's note: Baker Hughes is a sponsor of the Atlantic Council's Global Energy Forum. More information on Forum sponsors can be found here.
---
JANUARY 15, 2023 | 5:30 AM WASHINGTON | 2:30 PM ABU DHABI
Nuclear energy is ready for a breakout moment—if it can find the fuel
Is nuclear energy's guiding mantra "no fuel, no fun"? Daniel Poneman, president and CEO of Centrus Energy Corp. and former deputy US secretary of energy, suggested as much in a special session of the Global Energy Forum on Sunday afternoon. He and expert panelists representing the Polish, Romanian, and Canadian nuclear energy industries delved into what opportunities and challenges lie ahead for nuclear power of all stripes in a decarbonizing world.
The panelists firmly agreed that, without nuclear power, achieving net-zero emissions is impossible for the global community; indeed, the world must grow its nuclear fleet and pursue innovative, emerging nuclear technologies such as small modular reactors and microreactors, which show tremendous potential as flexible reactor options. Ana Birchall, special envoy for strategic and international affairs at Nuclearelectrica, spoke from the Romanian perspective and emphasized the importance of nuclear now regaining its status as a clean, affordable, reliable fuel in the wake of Russia's invasion of Ukraine. Indeed, she projected that Romania could, with its imminent unit additions, become an exporter of nuclear-generated zero-carbon power to its neighbors. Adam Guibourgé-Czetwertyński, undersecretary of state for the Polish Ministry of Climate and Environment, lauded nuclear energy in Poland as a source of energy independence and stable industrial supply.
That said, the panelists acknowledged that a buildout of nuclear power in a net-zero world faces some challenges. Most important, as Poneman explained, is the scarcity of supply (and suppliers) for High-Assay Low Enriched Uranium (HALEU) fuel, which was produced in Russia but is now limited to just a few remaining suppliers. He recommended that the US government consider making a US-based plant a global supplier of HALEU, reducing the proliferation risks but enabling the necessary export of this crucial input.
Joseph McBrearty, president and CEO of Canadian Nuclear Laboratories, delved into the permitting and stakeholder relationship challenges associated with nuclear energy construction and waste management. He noted that indigenous relationships are especially foundational to nuclear power companies—because nuclear facilities are often on or near indigenous-owned land—and that these and other relationships must be nurtured early on. Guibourgé-Czetwertyński and Birchall agreed that robust public support for nuclear energy is a lynchpin to a successful nuclear policy and noted that public support for nuclear energy is very high in both Poland and Romania thanks to their industries' sterling safety records. Broadly, the panelists expressed optimism for advanced nuclear technologies to be a major component of the decarbonization puzzle and for the ability of industry to scale these technologies safely while maintaining public confidence.
---
JANUARY 15, 2023 | 5:00 AM WASHINGTON | 2:00 PM ABU DHABI
Biden administration official raises critical questions around critical minerals
Amos Hochstein has a warning. The special presidential coordinator for global infrastructure and energy security at the US State Department said Sunday at the Global Energy Forum that securing minerals such as cobalt and copper, which are critical to clean energy technologies, is becoming a crucial challenge for the energy transition—and one that will look familiar to those who lived through the 1970s.
"The way we're going right now, we're actually creating a carbon copy of the twentieth century geopolitics of energy architecture and just putting it in the twenty-first century," Hochstein said. "Instead of having a small group of countries that control oil supply and perhaps refining, we're now going to create one or maybe a couple of countries that will control the entire supply chain for wind, solar, electric vehicles, and chips."
The geopolitics of energy in the 21st century could look a lot like the 20th century, warns @amoshochstein.

Instead of a few countries controlling oil supply, we could now have one or a couple countries controlling supply chains for wind, solar, electric vehicles, and chips. pic.twitter.com/RM2rdHV6hd

— Atlantic Council (@AtlanticCouncil) January 15, 2023
Read the full transcript
---
JANUARY 15, 2023 | 2:30 AM WASHINGTON | 11:30 AM ABU DHABI
How will the global climate effort change after the Inflation Reduction Act?
The Inflation Reduction Act (IRA): A zero-sum game, or transatlantic win-win? Brad Crabtree, assistant secretary of the Office of Fossil Energy and Carbon Management at the US Department of Energy, says the latter. At a Global Energy Forum panel discussion, Crabtree argued that the IRA, despite concerns that some of its provisions may be nationalistic, is in many respects how the United States is paying it forward on achieving major global emissions reductions. "We, the United States as a country, have already benefited from the investments that others have made," he said, later adding, "[t]he way we look at it, we're all in this together."
But he acknowledged some of the lingering concerns around the IRA, which has been criticized by European allies for subsidizing domestic industry at the expense of European companies, noting that officials "are working really hard now" on some of those concerns; he also said that the Biden administration will sincerely address these issues to the fullest extent possible. Other panelists argued that Europe should consider a similar approach to that of the United States. Lee Beck, senior director at the Clean Air Task Force noted that "climate is a political-economy outcome" and Europe could benefit greatly from an incentives-based approach that can commercialize technologies. Ben Backwell, chief executive officer of the Global Wind Energy Council, added, "It's not about taking investment from one place and going somewhere else… we should not see this as a competitive thing at all." He recommended designing "an IRA for Europe."
Tim Holt, member of the executive board and labor director at Siemens Energy, and Julian Mylchreest, executive vice chairman of Global Corporate & Investment Banking for Bank of America, emphasized that there need not be a competition for money, attention, or other resources among the transatlantic allies. Both private-sector representatives agreed that there is sufficient capital for rapid decarbonization in the United States and the European Union. They argue the IRA is especially well-positioned to catalyze that money and drive transformational change at scale in key sectoral investments such as hydrogen and carbon capture, utilization, and storage.
The panelists all cautioned that more challenges to IRA implementation remain; Crabtree pointed out that the US government remains understaffed and under-resourced in managing the regulatory and permitting side of the IRA, particularly with the wave of applications for new infrastructure (such as carbon storage wells) that is expected to come. The panelists' discussion conveyed that while the IRA represents a crucial and impactful step forward, realizing its full potential—for both the United States and the world at large—will be an ongoing process with numerous hurdles still ahead.
Editor's note: Bank of America is a sponsor of the Atlantic Council's Global Energy Forum. More information on Forum sponsors can be found here.
JANUARY 15, 2023 | 1:00 AM WASHINGTON | 10:00 AM ABU DHABI
Overcoming the biggest challenges that stand in the way of a net-zero developing world
According to Isabel Munilla, deputy assistant secretary of energy for market development, climate, and multilateral engagement at the US Department of Energy (DOE), "innovation anywhere supports progress everywhere." Speaking at a Global Energy Forum panel about supporting developing countries in their net-zero goals, Munilla described a number of innovative programs at the DOE that may help, including the Net Zero World Initiative, which aims to mature, then scale, promising decarbonization technologies, as well as the Clean Energy Solutions Center, through which the Department offers technical assistance. She said that the DOE believes driving down costs for key technologies in the United States (such as with the DOE's "cost targets for hydrogen and long-duration battery storage) will help set the developing world on a pathway to success.
But other panelists cited extant challenges. Otmane Benamar, GE Gas Power's chief technology officer for Europe, Middle East, and Africa, warned that especially in the developing world, "a lot of grids cannot handle the intermittency of renewable fuel," upping the urgency to improve and harden grid infrastructures. Daniel Schroth, director of the African Development Bank's Renewable Energy and Energy Efficiency Department, agreed with Benamar, adding that focus should also be placed on improving legal and regulatory frameworks for power systems in developing countries. Mary Burce Warlick, deputy executive director at the International Energy Agency, pointed to the extremely high costs of capital—in some cases seven times that of developed regions—as a key limiting factor in moving money to the regions that need climate finance the most. She argued that governments providing concessional finance can help ignite the private sector, which can then begin to move money at a meaningful scale.
The panelists' discussion conveyed that there are numerous and complex problems in scaling up climate development finance, and they are unlikely to be resolved with any silver-bullet solution; however, the panelists largely agreed that there is potential for transformative change.
Editor's note: GE is a sponsor of the Atlantic Council's Global Energy Forum. More information on Forum sponsors can be found here.
JANUARY 15, 2023 | 12:15 AM WASHINGTON | 9:15 AM ABU DHABI
John Kerry on the carbon offset initiative that aims to bring renewable-energy investment to developing countries
"We have to be more than deadly serious," about climate change, said US Special Presidential Envoy for Climate John Kerry at the Global Energy Forum. "This is life and death."
Kerry spoke on a panel that included representatives of each of the partners behind the Energy Transition Accelerator, a joint initiative introduced at COP27 last year that is intended to catalyze billions of dollars in much-needed private-sector investment to phase out fossil fuels and accelerate renewable energy.
Kerry said that the Accelerator is one important way to move trillions of dollars of annual climate financing (foundational to limiting global warming to 1.5 degrees Celsius) to where it is needed most: developing countries and the energy sector. He explained that "energy is the single summary of how you cure this problem… [because] the problem is emissions." The partners behind the Accelerator, he explained, are figuring out how to "de-risk the deals that are out there… and create valuable deals" that will make investment in the energy transition a viable opportunity for the global private sector.
At the Forum, the partners announced new guiding principles for the Accelerator, a list that calls the project to be inclusive, comprehensive, and high-integrity; it also calls on the project to promote near-term efforts to reduce greenhouse gas emissions and to incentivize new private-sector climate finance that is supplemental to, rather than a substitute for, other sources of finance.
Kerry was joined by Accelerator co-founders Andrew Steer, president and chief executive officer of the Bezos Earth Fund, and Elizabeth Yee, executive vice president of programs at The Rockefeller Foundation. Yee and Steer both emphasized the importance of a "highly credible" and transparent initiative, resilient to claims of "greenwashing." Yee noted that the system created by the initiative must accelerate job growth in developing countries to build robust coalitions behind clean-energy acceleration. She also said that the Accelerator will need to ensure that it allocates a certain percentage of funds from carbon-credit sales toward adaptation purposes. Steer said that carbon credits are necessary because, without this clear incentive structure, cleaning up the global energy sector (through investment in renewable energy) is "not happening at anywhere near the pace that is required." He added that the governance element of this mechanism, such as ensuring that emissions reductions in one locality are not neutralized by emissions increases elsewhere, is crucial to ensuring credibility and success.
Nobody is living by a law to hit 2050 net zero, said @ClimateEnvoy @JohnKerry today at @ACGlobalEnergy Forum.

"There's no law. People are doing it because they are exercising a sense of public responsibility," he added.

Learn more: ➡️ https://t.co/c1a8XrhORa#ACEnergyForum pic.twitter.com/NkeIDZbiMD

— Atlantic Council (@AtlanticCouncil) January 15, 2023
Read more
JANUARY 15, 2023 | 12:00 AM WASHINGTON | 9:00 AM ABU DHABI
COP28 leaders: Here's how to spark a just energy transition that includes everyone
What does equity really mean in the context of the upcoming COP28? Panelists at the Global Energy Forum discussed how to ensure the entire global community is brought into the transition.
Yasmine Fouad, the Egyptian minister of environment and ministerial coordinator, played a key role in Egypt's execution of COP27 in 2022 as the country's climate envoy for the summit; she argued that each COP must build upon the other and that, going forward, COP28 must be defined not by exclusion but rather by inclusion. This inclusion should highlight groups such as the Global South, the world's least developed countries, and women—but it should also embrace industries that have felt unwelcome in the COP process. Pointing to the oil and gas industry, Fouad said that "the crisis affects us all, so everyone has to be around the table." She suggested that all industries and all sectors of the economy must be prepared to put forth credible transition strategies.
Mahmoud Mohieldin, the United Nations (UN) special envoy on financing 2030 agenda for sustainable development, focused on the need for localized solutions to ensure that no one gets left behind in the energy transition. He emphasized the financing challenge for debt-stressed developing economies and the progress made by innovative financing models at local, regional, and global levels that are directing money toward the most vulnerable countries and regions. He argued that because the climate crisis has arrived, "ministers from developing economies should ask for more funding for adaptation" immediately.
Damilola Ogunbiyi, special representative of the UN secretary-general and chief executive officer of Sustainable Energy for All, concurred with Mohieldin on the need for immediate, innovative financing models. She cited her organization's African Carbon Market Initiative as a key example but also encouraged further action: "You cannot hit net zero and leave a billion people in energy poverty," she said. She added that close partnership with recipient countries, bearing their unique resources and potential decarbonization pathways in mind, must underpin these efforts, explaining that "being realistic about what a country has to do is important."
The panelists' remarks underscored the enormous challenge ahead for the UAE during its COP28 presidency as it seeks to integrate a wide range of sectors and stakeholders, particularly those long shut out from the COP processes; pave the way for an implementation plan for the loss and damage fund; and mobilize climate finance for the developing world.
Read more
---
Day one coverage
---
JANUARY 14, 2023 | 7:30 AM ET WASHINGTON | 4:30 PM ABU DHABI
How the UAE could tackle the tricky business of climate diplomacy
As climate change rapidly accelerates, geopolitics seems to be pushing the key players who could resolve it further apart. But according to an expert panel of diplomatic and private-sector experts who gathered Saturday at the Global Energy Forum, that direction need not be destiny, and creative approaches may yet help the global community fill the gaps.
Charles Hendry, former minister of state for energy for the United Kingdom, opened the discussion with the view that the United Arab Emirates, host of the upcoming United Nations Climate Change Conference of the Parties (COP28) is ideally suited to help bridge the serious and growing differences among key stakeholders such as the United States and China, but also many developing countries skeptical of Western leadership on climate. Neil Brown, managing director at KKR Global Institute, concurred that the UAE brings "credibility" on climate negotiations where the United States and Europe often lack it. He emphasized the importance of what happens not at COP28 but afterwards—especially for the private sector. "Will [COP28] bring private capital off the sidelines?" Brown asked.
Paula Dobriansky, senior fellow at the Harvard Kennedy School of Government and vice chair of the Atlantic Council's Scowcroft Center for Strategy and Security, reiterated that great-power competition could still dangerously undermine collective, targeted action at COP28 regardless of who hosts the conference. She highlighted China and Russia as problematic examples of countries that remain largely aloof from the COP process and deeply suspicious of US leadership. Ana Palacio, former Spanish minister of foreign affairs and a member of the Atlantic Council's board of directors, added that China is among those intent on undermining a rules-based international order. In this context, she argued that the US Inflation Reduction Act is a sorely needed example of leadership that has intrinsic value for Europe.
The panelists agreed that geopolitical competition is as tense now as anytime in recent memory—but this competition cannot be allowed to circumvent meaningful collaboration wherever possible on addressing climate issues. Trust and mutual agreement must be pursued wherever possible, and the UAE at COP28 may be best positioned to make up the trust deficit.
---
JANUARY 14, 2023 | 6:15 AM ET WASHINGTON | 3:15 PM ABU DHABI
The role of natural gas vs. renewables sparks debate
Are expanded investments in natural gas fundamentally in conflict with renewable energy as the world ponders the reliability challenge of the coming decades? This was a central debate among panelists on Saturday at the Global Energy Forum.
Paddy Padmanathan, vice-chairman and CEO of ACWA Power, which has a wide-ranging portfolio of projects in several developing countries, argued that the focus should be on the potential of renewable and emerging energies to power the future. He suggested that Europe can rapidly replace Russian energy resources with expanded renewable power and that it is already doing so. Likewise, many developing countries are starting from the ground floor on energy access altogether; renewable energy can be deployed quickly and effectively at scale, compared to conventional fuels projects which could take a decade or longer to become operational.
But the other panelists had different views. Helima Croft, managing director and head of global commodity strategy of RBC Capital Markets, cautioned that the worst of the global energy supply uncertainties may be yet to come—for example, if China reopens and dramatically increases its oil and gas demand later this year. She expressed concern that Europe and the world writ large may be forced to rely on the Organization of the Petroleum Exporting Countries (OPEC)—which has the only real spare capacity in the world—and traditional energy diplomacy in such a circumstance.
Osama Mobarez, secretary general of the East Mediterranean Gas Forum, emphasized that a strategy like REPowerEU, which may prove viable in Europe, may not be so in many developing countries. He warned that no one solution (such as renewable energy alone) can satisfy the energy needs of the world and that oil and gas will remain integral to the global energy system for years to come—themes echoed by speakers throughout the Forum. Carlos Pascual, senior vice president for global energy at S&P Global Commodity Insights, concurred that multiple energy sources are essential in a world where billions of people still lack access to reliable power and clean cooking resources. He added that high capital costs for many developing countries, which are not typically a barrier to renewable energies with high up-front costs in the United States and the European Union, are a major challenge that could potentially shut these economies out of major growth opportunities due to poor energy access.
This debate suggests that equity and justice considerations around clean energy, the Just Transition, and energy poverty remain fundamental challenges despite the rapid, and ongoing, progress in lowering barriers to zero-carbon energy sources.
Editor's note: RBC Capital Markets is a sponsor of the Atlantic Council's Global Energy Forum. More information on Forum sponsors can be found here.
---
JANUARY 14, 2023 | 5:15 AM ET WASHINGTON | 2:15 PM ABU DHABI
Europe has taken major strides to reduce its dependence on Russian energy. How can it work for the long haul?
Europe has just faced one of the most dangerous, fraught years in its recent history—with energy security at the heart of the challenges presented by Russia's invasion of Ukraine. At the Global Energy Forum on Saturday, Ditte Juul Jørgensen, the European Commission's director-general for energy, joined officials and business leaders to discuss how Europe weathered the storm (so far) and what the European Union (EU) can do in concert with its allies and private-sector leaders to remain resilient against Russia's ongoing weaponization of energy.
Jørgensen's keynote remarks highlighted how the EU's energy security strategy, RePowerEU, was initially received with skepticism at its launch in May 2022—with critics asking: "Can Europe reduce its dependence on Russian energy supplies as much as they say they want to?" she recalled. "Yes is the answer after this year, and it has been done swifter than what anyone had in mind."
She argued that by setting clear and binding targets, and matching action with ambition, Europe was able to withstand Russia's attempts to starve the continent of energy. She concurred with Maksym Timchenko, CEO of Ukraine's DTEK, who argued during the panel discussion that Ukraine can, and will, rebuild its energy infrastructure and become a reliable supplier of natural gas, nuclear, and renewable energy to its European neighbors. "Putin will not plunge Ukraine into darkness," he said. "The country will not be frozen. And we will be stronger after this winter season."
Geoffrey Pyatt, assistant US secretary of state for energy resources, said that the Russian invasion has demonstrated the strength and endurance of the US-EU alliance and that the United States remains firmly committed to seeing Europe through the upcoming winter and beyond. US liquefied natural gas (LNG) exports and the shared commitment to energy transition, Pyatt said, are central to this partnership. He framed the Inflation Reduction Act, currently a source of transatlantic tension given its tax credits for electric vehicles made in the United States, as an opportunity for Europeans to invest in the United States and ultimately accelerate the energy transition on both sides of the Atlantic.
Panelists representing European energy companies offered their own suggestions on how Europe might move forward. Anatol Feygin, executive vice president and chief commercial officer of Cheniere Energy, suggested that his company has pioneered the very model of market flexibility that enabled Europe to resist Russia's manipulation of energy markets. Even so, he argued that it is critical for suppliers of natural gas to continuously improve the lifecycle emissions profiles of their products. Luis Cabra, deputy CEO of Repsol, noted that while Europe has made vast strides in reducing emissions, renewables alone cannot solve the complex, multi-faceted problem of economy-wide transition.
Ben Wilson, chief strategy and external affairs officer of National Grid, suggested that the powerful combination of hydrogen and renewable energy is a compelling long-term solution for Europe and that investment in transmission must accompany the anticipated enormous expenditure in new renewable energy capacity. Amid these varying perspectives on what to do next, one thing is clear: Europe has a great deal of work ahead to fully disentangle itself from Russian energy over the long term.
Editor's note: DTEK, Cheniere Energy, and Repsol are sponsors of the Atlantic Council's Global Energy Forum. More information on Forum sponsors can be found here.
---
JANUARY 14, 2023 | 2:00 AM ET WASHINGTON | 11:00 AM ABU DHABI
What will it take to solve the energy trilemma?
Panelists discussed the challenges in solving the energy trilemma—affordability, reliability, sustainability—at the Global Energy Forum on Saturday, soon after the Atlantic Council's Global Energy Center launched the 2023 "Global Energy Agenda." The panel featured Albanian minister of infrastructure and energy Belinda Balluku and experts representing private-sector energy companies including Crescent Petroleum, General Electric, and Excelerate Energy.
Balluku opened the discussion with a frank assessment of the energy security situation in Southern Europe. She pointed out that there's a need for not only a range of energy solutions to address the current crisis fueled by the Russian war in Ukraine, but also for long-term resiliency and economic growth in the region. She highlighted the importance of rapidly expanding Albania's renewable energy resources (an expansion that has been accelerated all over Europe by Russia's recent invasion). But she also noted the importance of Albania's strategy around Floating Storage Regasification Units (FSRU)—a strategy supported by the United States—which has since 2020 become a cornerstone project supplying imported liquid natural gas to Albania's neighbors. Diversification of energy supplies and suppliers, she concluded, is thus crucial to Albania's and Europe's energy security. Steven Kobos, president and chief executive officer of Excelerate Energy, concurred with Balluku and pointed to his company's rapid response FSRUs in Finland and elsewhere. He warned, however, that a real supply crisis for natural gas could be in the making as demand outside Europe could grow in the coming months and new supply in the near term will be sharply limited as new production infrastructure is still years out from operations.
The other panelists offered similarly nuanced views of the role of gas in the energy transition—particularly when considering the unique needs of many developing countries. Neeraj Agrawal, chief financial officer of Crescent Petroleum, described his company's work harnessing natural gas to shift Iraqi electricity generation away from diesel fuel, which is more polluting. He argued that natural gas will be a lynchpin resource for many developing economies in Africa and Asia that are decarbonizing while providing a reliable power supply to more than one billion people worldwide who lack it. Roger Martella, chief sustainability officer at General Electric, agreed with the imperative to expand global electrification but steered the conversation toward the importance of resiliency. He argued that amid accelerating cyber attacks and intensifying climate change, the world must harden electrical grids. He also acknowledged the need to address the "ecosystem" of challenges in building energy infrastructure in many parts of the world which, he said, policy alone cannot solve on its own.
Editor's note: Crescent Petroleum, General Electric, and Excelerate Energy are sponsors of the Atlantic Council's Global Energy Forum. More information on Forum sponsors can be found here.
Read the report
JANUARY 14, 2023 | 1:30 AM ET WASHINGTON | 10:30 AM ABU DHABI
Powering forward—and paying for—the energy transition
The energy transition will require unlocking tremendous amounts of capital; but energy investments aren't keeping up as much as is needed, warned a panel of experts at the Global Energy Forum on Saturday.
Read more
Watch
A timely discussion today at #ACEnergyForum on oil price fluctuation with @amoshochstein and @_HadleyGamble. #oott

Tune in: ➡️ https://t.co/94JdHyRRTR https://t.co/0KTl9xE1Gk

— Global Energy Center (@ACGlobalEnergy) January 14, 2023
JANUARY 14, 2023 | 1:00 AM ET WASHINGTON | 10:00 AM ABU DHABI
UK official: Cooperation on a low-carbon, secure energy future "makes us all more prosperous"
According to Grant Shapps—the UK secretary of state for business, energy, and industrial strategy—energy matters more than it ever has before.
Shapps's message was part of keynote remarks he delivered at the Global Energy Forum, where he emphasized both what has and has not changed in the energy sector over the last year. He pointed to hard energy-usage choices that the world has faced as prices for fuels have skyrocketed and the world's low-income economies have been forced to make difficult decisions. In addition, the worrisome acceleration of climate change has presented a constant threat as heat waves have scorched Europe, bomb cyclones have devasted the United States, and flooding has led to thousands of fatalities in Pakistan.
But Shapps expressed his confidence in the future, arguing that "we will succeed as humanity" in fighting the existential challenge of climate change. He noted the growing number of entrepreneurs and innovators worldwide pushing ahead with crucial technological innovations, such as the recent nuclear fusion success at the United States' Lawrence Livermore National Laboratory. He lauded Britain's rapid strides in building some of the largest wind farms in the world in the North Sea, which provide 86 percent of the United Kingdom's electricity needs. These developments, he concluded, should give us all hope for the future.
He cautioned, however, that "a fairer future is worth fighting for" and emphasized the need for expanding just transition initiatives, such as those in South Africa and Indonesia, to provide both climate and economic security (as well as needed job growth) to developing countries. Despite the world facing what he deemed a challenge no other generation has faced before, he said there are many reasons to be hopeful—and much work to be done.
Shapps's remarks took place a day after the United Kingdom and United Arab Emirates signed a Clean Energy Memorandum of Understanding to increase investment and cooperation between the two countries on energy security. "When it comes to climate change… none of us should have to settle for less. So working together really matters."
JANUARY 14, 2023 | 12:45 AM ET WASHINGTON | 9:45 AM ABU DHABI
Gas is here to stay—until renewables are ready, say ministers
After gas prices spiked this year, some energy users are beginning to regain a sense of equilibrium with steadier prices. But that may not be the case in the long term, said two energy ministers speaking at the Global Energy Forum.
"There isn't much gas coming into the market until 2025," said Saad Sherida Al-Kaabi, the Qatari minister of state for energy affairs and president and chief executive officer of QatarEnergy. "So I think it's going to be a volatile situation for some time to come."
"Gas has to be available, and it has to be affordable," to help support renewable energy, clean up the environment, and assist countries in reaching their climate goals, said Suhail bin Mohammed Al Mazrouei, UAE minister of energy and infrastructure.
"More renewable energies will be installed," Al Mazrouei added, "but we need a baseload; and for a baseload, we need more investments in gas."
Editor's note: The UAE ministry of energy and infrastructure is a partner of the Atlantic Council's Global Energy Forum. More information on Forum sponsors can be found here.
Read more
JANUARY 14, 2023 | 12:30 AM ET WASHINGTON | 9:30 AM ABU DHABI
COP28 president-designate: With the world "way off track" on Paris goals, "transformational progress" is needed
With a pivotal United Nations climate change summit set to take place in the United Arab Emirates at the end of this year, "the world is playing catch-up" to implement emissions-reduction goals, said UAE Minister of Industry and Advanced Technology Sultan Al Jaber, the newly designated president of the summit. But, he added, there's ample opportunity to accelerate new technologies and refashion old ones to reach net-zero emissions, a milestone that would represent "the greatest economic and human promise since the first Industrial Revolution."
In his first remarks since being named the incoming president of the twenty-eighth UN Climate Change Conference of the Parties (COP28), Al Jaber spoke on Saturday morning at the Atlantic Council's Global Energy Forum in Abu Dhabi, a two-day gathering of policymakers, government officials, and business leaders that sets the energy agenda for the coming year.
Al Jaber acknowledged that the world is "way off track" in hitting the goals of the 2015 Paris climate accords, intended to limit global warming to 1.5 degrees Celsius.
But in his first opportunity to set out the vision for the landmark conference—which he said will be a COP of "solidarity" and "action" as it engages in the first "global stocktake" progress report—Al Jaber offered a roadmap to the "transformational progress" he envisions.
Editor's note: Al Jaber is CEO of the Abu Dhabi National Oil Company and chairman of Masdar, both of which are sponsors of the Atlantic Council's Global Energy Forum. More information on Forum sponsors can be found here.
Read more
Watch
🇦🇪 H.E. Dr. Sultan Al Jaber outlined his vision for #COP28UAE earlier today at #ACEnergyForum:

"We want it to be a practical COP. A COP of action. A COP for all. A COP that raises ambition and moves from goals to actually getting it done."

Watch more: ➡️ https://t.co/V0Y0DwZSBf pic.twitter.com/nVtQ5ilhki

— Atlantic Council (@AtlanticCouncil) January 14, 2023
JANUARY 13, 2023 | 3:00 PM WASHINGTON | JANUARY 14, 2023 | 12:00 AM ABU DHABI
The 2023 Global Energy Agenda
By Landon Derentz, Christine Suh, Ameya Hadap, Paul Kielstra (Editors)
In 2022, Russia's invasion of Ukraine undermined the global energy system's return to pre-COVID normalcy, injecting turmoil and uncertainty into the sector. Russia's gas cuts led Europe to compensate for the loss of energy supply by reverting to coal and oil, leading the global community to confront deepening tensions between national security, energy security, and climate action.
However, the crisis in Europe, despite causing an upsurge in carbon-intensive power, provided the world with fresh impetus to change the trajectory of the energy transition. In response, policymakers worldwide are hastening efforts to decouple their economies from foreign hydrocarbons and to decarbonize energy systems. Ultimately, the war may accelerate longer-term energy trends toward a more sustainable and secure system.
Against this backdrop, energy leaders head into 2023 with a greatly revised outlook from 2022, as revealed in the Atlantic Council's third edition of the Global Energy Agenda. The publication includes an analysis based on our survey of energy stakeholders, representing a wide variety of professions across the sector from more than fifty countries. Complementing our survey analysis, a diverse group of experts, corporate leaders, and policymakers contributed essays that provide deeper insights on the tumult of 2022 and its implications for reshaping energy systems for the future.
Despite a year defined by complications to the energy transition, there is reason to be optimistic as the global energy community doubles down on in-tandem efforts to achieve climate goals and longer-term energy security for all.
Read the agenda
Further reading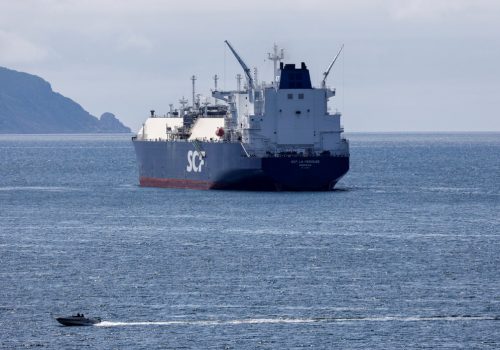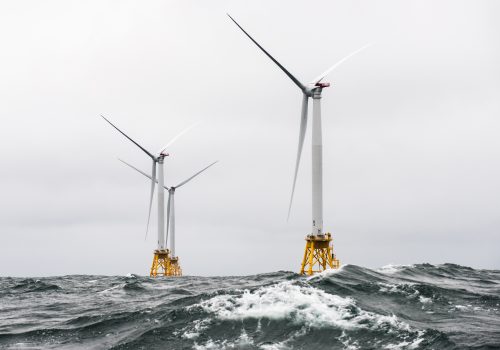 Mon, Dec 5, 2022
EnergySource By Joseph Webster
US strategy on offshore wind is steadily evolving. The attendant changes could lay the groundwork for emergence as an offshore wind powerhouse.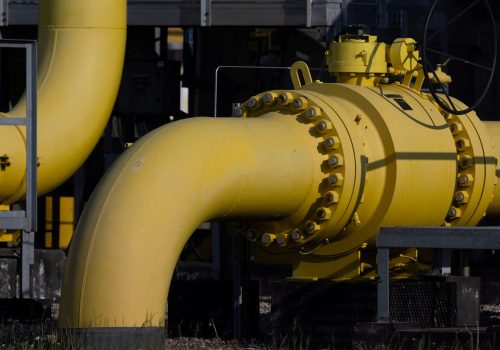 Fri, Dec 2, 2022
New Atlanticist By Reed Blakemore, Charles Lichfield, Brian O'Toole
As the EU comes to an agreement on a $60 price cap, here's how it will work—and what impacts the world will see on the global and Russian economy.