In recent months, the United States has undertaken a flurry of high-profile diplomatic activity in and around the Indo-Pacific. Whether through Indian Prime Minister Narendra Modi's state visit to Washington or the parade of senior administration officials traveling to Beijing for bilateral meetings, the United States has sought not only to manage the US-China relationship, but also to demonstrate the credibility of its commitments to the region.
Allies and adversaries alike are taking notice of these efforts, which even extended to the other side of the globe during the NATO Summit in Vilnius, Lithuania, where a partnership between the Alliance and Japan was announced. This US diplomatic push has received wide media coverage and, alongside issues such as the war in Ukraine, sucked up the oxygen in Washington's foreign policy ecosystem.
Stepping up in the Pacific
One development that has been comparatively overlooked is increasing US engagement in the Pacific Islands. Over the past six months, the United States has signed a defense agreement with Papua New Guinea, opened new embassies in the Solomon Islands and Tonga, renewed Compacts of Free Association with Micronesia and Palau, and more. Collectively, these developments demonstrate that the United States is backing up its lofty words about engagement with action.
In another example of this commitment, US Secretary of State Antony Blinken will officially dedicate the new US embassy in Nukuʻalofa, Tonga, on July 26. It's Blinken's second trip to the Pacific Islands in as many months, and it's no coincidence that Defense Secretary Lloyd Austin is also stopping in Papua New Guinea this week on his way to Brisbane for this year's Australia-United States Ministerial Consultations. Even Second Gentleman Doug Emhoff is getting in on the action with a visit to Samoa this week.
Blinken, Austin, and Emhoff's moves reflect the administration's whole-of-government approach toward the Pacific Islands. After a post–Cold War lull in relations during which the United States was all but absent, Washington progressively started paying more attention to the region in the late 2010s, working in concert with allies and partners to present not only a united front, but tangible development options.
The China card
Much of this revived attention is due to the region's geopolitical importance and ever-increasing competition between the United States and China. In Washington, the "China card" is a surefire way to gain notice for any issue, and this one is no different. The United States increased its focus on the region in the late 2010s, and the 2022 security agreement between China and the Solomon Islands shook away whatever complacency remained.
In a region where Western countries have long held greater influence, China has made real gains. As Australian academic Graeme Smith recently wrote, "China has made inroads so quickly in a region that it still officially classifies as 'peripheral.'" Beijing has assiduously courted political elites, invested in much-needed infrastructure, and become a major economic player—the same playbook it has used in Sub-Saharan Africa, Central Asia, and elsewhere.
On some fronts, China's efforts have borne fruit. On July 10, Beijing hosted Solomon Islands Prime Minister Manasseh Sogavare for a state visit, continuing the trend of growing relations between China and the strategically important archipelago's government. During Foreign Minister Wang Yi's tour of the region in May, China announced a host of bilateral agreements with Pacific states. In 2019, China induced the Solomon Islands and Kiribati to switch diplomatic recognition from Taipei to Beijing, and it continues to court Taiwan's four remaining formal partners in the region—the Marshall Islands, Nauru, Palau, and Tuvalu.
On other fronts, Beijing's efforts have fallen short. Wang's travels may have fostered bilateral ties, but they failed to secure the multilateral security agreement that his government desired. In Fiji, the recently elected government announced a review of its policing cooperation agreement with China. In Micronesia, the outgoing prime minister accused China of using bribes, coercion, and threats to meddle in Micronesian affairs—the same sort of behavior that has turned public opinion against China in other parts of the world.
The Pacific perspective
Pacific leaders' views of renewed attention from the world's two most powerful nations are mixed. On one hand, they welcome it because they can use it to their advantage. Sogavare, for example, has wooed China while simultaneously leveraging Beijing's support to push Australia and the United States to increase aid and investment. From a dollars and cents standpoint, his gambit has paid off—and other leaders in the region know they can take a similar approach.
On the other hand, Pacific leaders are averse to how geopolitical competition might impact their region. Like other developing countries, they don't see relations with the United States and China as a binary choice, and they want to avoid becoming pieces on the proverbial chessboard that are pushed around by larger powers. For many, colonialism is a living memory—the Solomon Islands and Papua New Guinea only gained independence in the late 1970s—and the history of World War II, during which many Pacific nations were key battlegrounds, looms in the background.
Washington's path forward
The United States may be late to the party, but it has shown up—and should be lauded for doing so. But questions linger about its ability to follow through on promises made and to sustain its attention to the region. The cancellation of US President Joe Biden's planned visit to Papua New Guinea in May was perhaps the highest-profile manifestation of this, but certainly not the only one.
Simply put, there is more the United States needs to do. It needs to continue showing up and demonstrate that it values partnerships with Pacific nations not just because of their relevance to geopolitical competition with China but also in their own right. Issues from fisheries to critical minerals to information and communications technology hold significance in the region. There is no issue more important, though, than climate change, which Pacific Islanders see as an existential threat to their security and way of life.
Thus far, the United States is on the right track. This week's high-level visits and forthcoming diplomatic efforts, such as the leaders' summit scheduled for September, will engender confidence. The administration's actions on climate change, both in the region and globally, have given it additional credibility. Washington can build upon these successes by continuing to put meat on the bones of its Pacific Islands policy and, crucially, deliver on promised aid funding. By doing so, the United States will strengthen its standing in the region—and show that it's there to stay, not just reacting to China's advances.
---
Parker Novak is a nonresident fellow with the Atlantic Council's Indo-Pacific Security Initiative and Global China Hub. He specializes in Southeast Asia and the Pacific Islands and previously served as the country director for a nongovernmental organization in Indonesia and Timor-Leste.
Further reading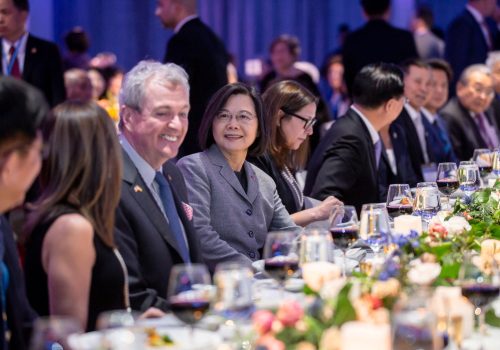 Mon, Apr 3, 2023
New Atlanticist By Markus Garlauskas
As Taiwan President Tsai Ing-wen stops in the United States, Beijing is trying to paint reasonable, routine, and restrained actions as risky, worrisome, and escalatory.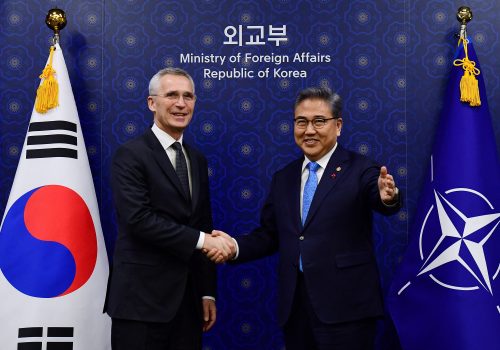 Mon, Feb 6, 2023
New Atlanticist By Sara Bjerg Moller
NATO Secretary General Jens Stoltenberg's visit to Japan and South Korea trip was striking both for its timing and for its messaging shift on China.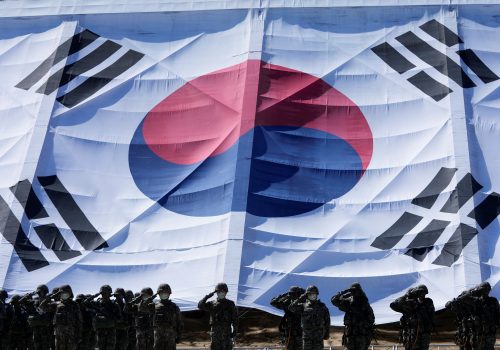 Sat, May 20, 2023
New Atlanticist By Thomas Cynkin
There is space for South Korea to participate in aspects of the Quadrilateral Security Dialogue and other minilateral structures aimed at maintaining international order and security in the Pacific.