With Congress in chaos, Europe can show the world how to unite and deliver for Ukraine
"As long as it takes," so goes the mantra of the European Union (EU) about its support for Ukraine. This week, while eyes have focused on the unfolding drama in the United States House of Representatives, with aid to Ukraine on the chopping block, the EU showed it is pulling its own weight.
On Monday, as political intrigue dominated headlines in Washington, foreign ministers of the EU's member states took the train to Kyiv to hold the first-ever informal Foreign Affairs Council meeting—EU-speak for meetings of EU member state foreign ministers—outside the European Union. Led by the EU's top diplomat, Josep Borrell, twenty-three foreign ministers (representing the vast majority of the twenty-seven EU members) took part in the unannounced visit to Ukraine's capital, meeting with Ukrainian President Volodymyr Zelenskyy to reiterate their support for Ukraine and its future in the European project.
It's not unusual anymore for foreign leaders to make the trip to Ukraine with messages of support and pledges of aid in tow, and this visit was no different. Borrell pitched an additional five billion euro package for EU member states to approve by the end of the year. The visit was not just a photo opportunity, but in this case the symbolism was the most important part of the trip. The gathering in Kyiv was a timely response to the recent developments across Europe and on the other side of the Atlantic that threaten unity on Ukraine.
The foreign ministers' trip to Kyiv shows that the vast majority of EU members are in lockstep in their support to Ukraine, showing recent developments in Europe to be exceptions, not the norm. In Slovakia, a nationalist populist party topped the polls on Sunday after running on a campaign to end aid to Ukraine. Hungary continues to play spoiler on EU sanctions and support to Kyiv. Poland's recent spat with Ukraine over grain prices saw increasingly combative rhetoric as Warsaw gears up for an election in mid-October (though Kyiv and Warsaw have reached an agreement on grain transfers, and Poland continues to repair and ship equipment to Ukraine).
The visit also helps refute the idea that Europe is not pulling its weight, a stubbornly persistent critique in certain political corners.
The visit by EU foreign ministers is a direct response to these developments and to the Kremlin, which has gloated over recent tensions between Warsaw and Kyiv. The ministers' unity made clear to Moscow where Europe stands. Twenty-three European ministers showed their support for Ukraine in Ukraine and in so doing poured cold water on the idea that Europe's commitment to the country is fracturing or weakening.
The visit also helps refute the idea that Europe is not pulling its weight, a stubbornly persistent critique in certain political corners. Washington is beyond a doubt the most important backer of military aid to Ukraine. US equipment has been key to Ukraine's performance on the battlefield and Washington single-handedly supplies Ukraine with an overwhelming amount of aid.
But Europe has also stepped up. As a bloc, the European Union and its members are the largest supporters of Ukraine, pledging 131 billion euros of aid through military, financial, and humanitarian assistance. Coordination at the EU level has seen member states opening their borders to Ukrainian refugees, emptying their weapons stockpiles, and beginning joint purchases of ammunition for Ukraine and Europe—and allowing impressive access to the European single market to help keep the Ukrainian economy afloat.
Most important, however, are Ukraine's EU aspirations and integration. Next up on Ukraine's EU journey will be a written report by the European Commission on the status of Ukraine's progress on the conditions the Commission outlined before accession negotiations can begin. Rumors are circulating that EU members may green light formal membership talks with Kyiv by the end of the year. If true, then it would be a major victory for both Europe and Ukraine. And it would mark another aspect of Europe's support to Ukraine.
Contrast this week in Europe with the week in Washington. Often, the Brussels institution has been the butt of jokes about its inefficiency, moving with the agility of a cruise liner steered by twenty-seven captains. Those jokes lose some of their potency in recent days when looking across the Atlantic.
A looming US government shutdown was avoided at the last moment by, among other aspects, separating out Ukraine aid from the continuing resolution to keep the government open for the next forty-five days. Then the House speaker was removed from his post by his own members. Capitol Hill may realistically approve further aid for Ukraine—support for Ukraine remains bipartisan in the House and Senate—but as intrigue builds around leadership races and new government shutdown threats, Ukraine aid may become increasingly caught up in the political drama.
The EU should follow up with a swift announcement of an accelerated aid package for Kyiv by the October 20 US-EU Summit.
Ukraine needs support from the United States and Europe. And this is not to say that Europe should pat itself on the back for its support to Ukraine. On the contrary, Europeans should be clear-eyed that increased political polarization will more directly impact Ukraine policy as the elections in 2024 approach—both in the United States and in Europe with the European Parliament's own elections in June.
But Europe also has an important opportunity at a moment of new uncertainty of the transatlantic partnership's staying power over support for Ukraine. Even if more US support is likely by the end of this year, Europe can step up further and bridge the gap in the interim. The EU should follow up with a swift announcement of an accelerated aid package for Kyiv by the October 20 US-EU Summit. That would send an uncompromising signal to Ukraine, the United States, and Russia—one of support for Kyiv for "as long as it takes," of Europe stepping up to fend for its own security despite what isolationist critics in Washington might say, and of a transatlantic partnership in which both sides deliver when needed to confront autocratic bullies.
---
Jörn Fleck is the senior director of the Atlantic Council's Europe Center.
James Batchik is an assistant director with the Atlantic Council's Europe Center.
Further reading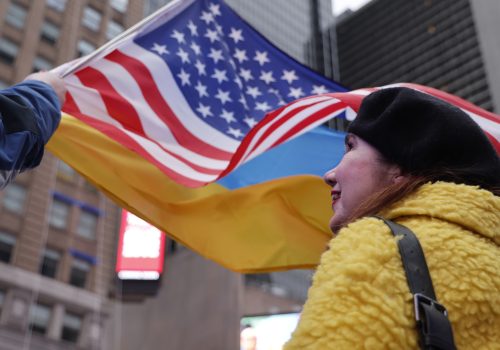 Wed, Oct 4, 2023
New Atlanticist By Andrew D'Anieri
New polling provides further evidence that American public support for Ukraine remains robust and bipartisan, and may even be more forward-leaning than the opinions of many in Congress or the White House.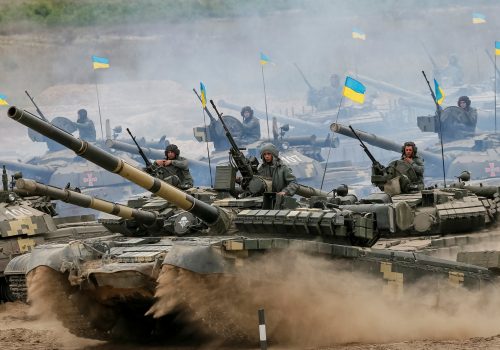 Tue, Oct 3, 2023
New Atlanticist By Andrew A. Michta
The overarching lesson from the unfolding war in Ukraine is simply the scale of what's required to fight a modern state-on-state war.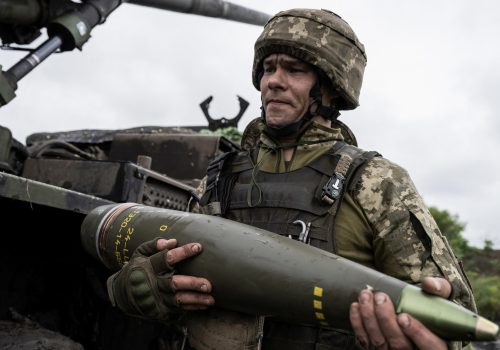 Fri, Sep 29, 2023
New Atlanticist By Thomas S. Warrick
Today's battlefield chews up ammunition and equipment at extraordinary rates. The US "arsenal of democracy" needs to start working overtime.