With the Baltic Sea set to become a "NATO lake"—now that Turkish President Recep Tayyip Erdoğan pledged to unblock Sweden's membership—eyes are turning toward the Black Sea, around which Russia has been trying to tighten its grip. To weaken that grip, and safeguard the eastern flank of NATO, the West must step up its efforts to equip both Ukraine and Turkey.
But Russia has been aggressive in the maritime domain since long before the first Russian missiles of Moscow's full-scale invasion hit Ukrainian cities last year.
Back in 2018, Russian President Vladimir Putin opened a twelve-mile bridge—which was illegal in its violation of Ukraine's territorial sovereignty—across the Kerch Strait connecting Russia and Crimea, thus setting the stage for Russia's creeping occupation of the Sea of Azov. Subsequent attacks on Ukrainian vessels in the Kerch Strait were major violations of the universal principle of freedom of navigation. They became an early indication of Russia's desire to cut Ukraine off from the seas and impose an economic blockade on its main seaports—and a warning that Putin may follow the same pattern in the Black Sea.
In 2019, the Russian Black Sea Fleet conducted 197 combat training drills, with 80 percent of the exercises being offensive in nature, employing combined forces, submarines, fixed-wing aircraft, and live missile launches. With training activities taking place in waters off of illegally annexed Crimea, this "war of drills" has prevented free navigation in the northern and northwestern Black Sea sometimes for a few months in a row. As a result, Ukraine has lost control of over 100,000 of the 137,000 square kilometers (about the size of South Korea's landmass) of its territorial waters and exclusive economic zones in the Black Sea—zones that are rich in natural resources.
This has not only threatened Ukraine's security; it has also jeopardized Turkey's interests. Russia has always been keen to access the "warm water" seas. Turkey, the gatekeeper of the Bosphorus and Dardanelles straits, has been the main obstacle to the realization of this dream since the Russo-Ottoman Wars.
Turkey's closure of the straits to warships in the early days of the war has helped prevent further escalation on sea. Ukraine's sinking of the Russian Moskva cruiser and subsequent liberation of the small but strategically important Snake Island made Russian seizure of major Ukrainian seaports in Odesa very difficult. However, the Russian navy still remains highly capable. According to expert estimations, Russian forces in the Black Sea include at least four diesel-powered submarines; two frigates armed with rockets, torpedoes, and cruise missiles with a range of about 1,550 miles; ten large amphibious ships; and smaller patrol ships.
Were Russia to succeed in cutting Ukraine off from the Black Sea, Turkey would have found itself on the southern coast of a "Russian lake," with Russia's anti-access/area denial bubble covering much of the coastline and the surrounding region.
Since the full-scale invasion of Ukraine began, Moscow has sought to establish more control over maritime routes in the Black Sea. The Ukrainian Ministry of Foreign Affairs said that Russia has been arbitrarily granting commercial vessels passage in international waters according to the Kremlin's will, even within the United Nations and Ankara-brokered Black Sea Grain Initiative, violating the freedom of navigation and presenting a challenge for countries along the Black Sea, which include three NATO members: Bulgaria, Romania, and Turkey.
Russia's expanding control over the Black Sea bodes poorly for the critical and energy infrastructure (including several gas pipelines) located there. Russia not only carried out the development of the Black Sea shelf in an area it illegally seized from Ukraine; according to Kyiv, Moscow has also used captured Ukrainian offshore drilling platforms for intelligence purposes and the deployment of its troops.
Against this backdrop of a mounting Russian military build-up, Turkey's vocal support of Ukraine's NATO membership and willingness to boost defense cooperation with Kyiv is hardly surprising. Ukraine appears to be the only country capable of pushing back against Russian naval and military dominance in the region, even without increasing the presence of the non-littoral NATO countries in the region. That capability could serve Turkey well. Ukraine's highly capable land forces, combined with Romanian air defense systems and the Turkish navy, would form a strong shield against further Russian aggression on NATO's eastern flank. Russia's recent attacks on Ukrainian ports and agricultural infrastructure just across the Danube River from Romania compel NATO allies to do more to stop the destruction of grain storages and to keep the Black Sea open for navigation.
With the Black Sea being essentially a Turkish-Russian maritime condominium, Ankara sees the Montreux Convention—which governs maritime traffic through the Turkish straits—as a valuable instrument that helps enable Turkey's regional ownership strategy. But with Russia's ongoing war in Ukraine, any kind of regional cooperative security arrangement that would include Russia is no longer possible, while security risks posed by Russia to the region are increasing.
Back in 2016, Erdoğan warned that Putin must not be allowed to turn the Black Sea into a "Russian lake". Now that Russia has expanded its control over the maritime and global supply routes in the area, this prospect seems closer than ever.
The war in Ukraine and Russian escalation in the Black Sea, while damaging to the global order, have created an opportunity for Ukraine, Turkey, and NATO allies to step up security cooperation. According to a NATO survey conducted this year, 76 percent of Turkish citizens consider the Alliance to be important for the future of Turkey's national security; 58 percent believe that the Russian invasion of Ukraine has negatively affected their safety.
This does not imply that Ankara may give up on its role as a guardian of the straits to allow non-littoral NATO members unlimited presence in the Black Sea for their warships. But Turkish leadership is pragmatic, and Turkey's current interests—both security and economic—demand a strong re-alignment with the West. Ankara could tap its potential to be a regional power and garner praise both in the West and in the Global South by choosing to step up its efforts to lift Russian blockades in the Black Sea and provide military convoys for commercial vessels seeking to access Ukrainian seaports.
These efforts should be backed by other NATO allies. While there doesn't seem to be much political appetite for greater engagement in the Black Sea in Washington or Berlin, Ankara should get a clear message from its partners that it will not be left to face an aggressive Russia alone. That would not only help secure the Black Sea; it would also help resolve one of Turkey's grievances with its transatlantic partners: its perception that allies in the West "have never fully appreciated Turkey's security concerns" and its contributions to the collective security of the Alliance.
Turkey should be credited for what it's done for Ukrainian and Euro-Atlantic security in the region so far—be it closing the straits to Russian warships, building corvettes for Kyiv, or brokering the grain deal. It can still do more. Turkish leadership could help enhance Ukrainian naval and coastal defense capabilities, warn Putin off attacks on Ukrainian seaport infrastructure, and pressure the Kremlin to lift blockades. Given that Ankara holds the key to the straits, including for Russian oil tankers, and provides a lifeline for the free flow of Russian citizens and goods, Erdoğan has enough leverage to persuade Putin in their negotiations planned for this month.
NATO allies should not shy away from taking a stronger stance in the Black Sea, showing full support to Turkey and Ukraine, including by providing both countries with F-16s and boosting defense ties. Of course, there is a price to be paid by the Alliance for security and stability in its eastern flank. But in the long run, setting Ukraine up to win this war and retake all of its territories, including Crimea, and finding ways to realign with a major NATO ally Turkey will be less costly than inviting more Russian aggression to the Black Sea and silently watching Russia and its drone-supplying partner Iran gain control over the airspace just outside NATO's door.
---
Yevgeniya Gaber is a nonresident senior fellow at the Atlantic Council IN TURKEY and at the Center in Modern Turkish Studies, Carleton University. Follow her on Twitter @GaberYevgeniya.
Further reading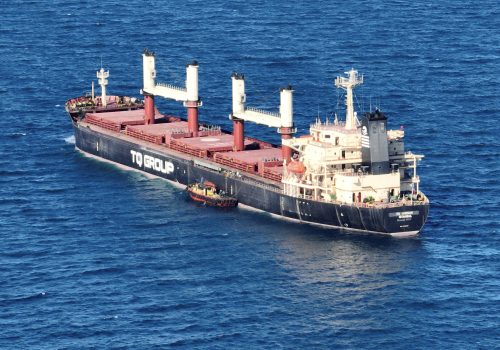 Mon, Jul 17, 2023
New Atlanticist By Atlantic Council experts
The last ship under the UN- and Turkey-brokered deal to export grain and fertilizer from Ukraine by sea has left Odesa. Atlantic Council experts explain what to expect next.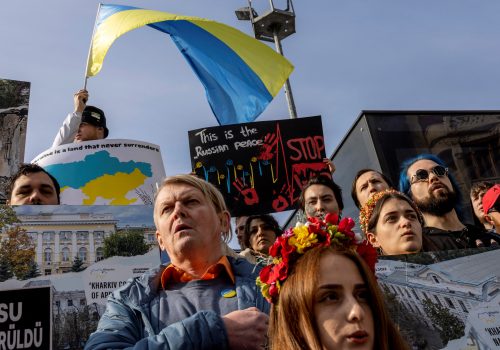 Wed, Mar 1, 2023
TURKEYSource By Yevgeniya Gaber
With dim prospects for peace talks in the foreseeable future, now is the time for Turkey to unequivocally support Ukraine.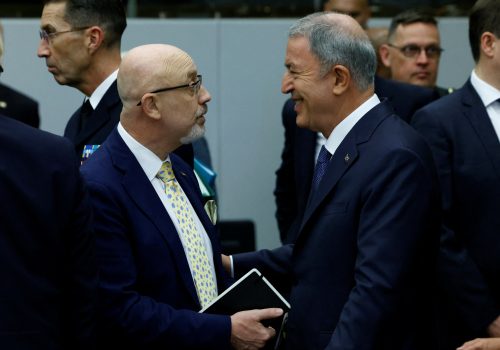 Thu, Feb 23, 2023
TURKEYSource By Atlantic Council IN TURKEY
One year into the war, the Atlantic Council IN TURKEY discusses the role Turkey has played in the conflict and the importance of its continued support with Yevgeniya Gaber.