In a reprise of the accession drama at last year's NATO Summit, Turkish President Recep Tayyip Erdoğan flashed Turkey's long-awaited green light for Sweden's NATO membership on the eve of this year's summit in Vilnius, Lithuania. But that green light signals much more than "go" for Stockholm: It also signals that Turkey has taken the opportunity to greater align itself with the West in the months since Erdoğan secured re-election.
Sweden's journey to accession seems to be playing out along Turkey's preferred timeline, coming one month after Sweden's tougher anti-terror laws came into force and having been affirmed at the Alliance's marquee gathering for maximum effect. Recent developments—including fresh pro-Kurdistan Workers' Party (PKK) demonstrations and a Quran burning in Sweden—threatened to derail the process, but Turkey should be credited for not giving in to these provocations.
The agreement is the latest and greatest signal that Turkey has decided to align more with the West. Other notable signals came in the form of Turkey's hosting Ukrainian President Volodymyr Zelenskyy (during which Ankara reiterated its longstanding support for Ukraine's NATO membership and angered Moscow by releasing Azov battalion commanders) and the reiteration of the value it places on European Union membership. All these signals happened in a span of three days. The developments stand in stark contrast to speculation—that has arisen since before Turkey first raised an issue with Sweden's accession—that Turkey, under Erdoğan, is pivoting toward Russia and the East.
Two months ago, when in the heat of a tough re-election campaign, Erdoğan accused Western countries (including the United States) of colluding with the opposition to remove him from power. At that point, the trajectory of Turkey's relations with transatlantic allies appeared much less clear. Once Erdoğan won the presidential elections and the parliament became distinctly more nationalist, there were fears an emboldened Turkey would move toward the East. The first hint that this would not be the case, and that the president's pragmatism would once again emerge, appeared in the selection of the post-election cabinet, which broadly elevated several pro-Western voices—including widely respected Mehmet Şimşek, who was brought back as minister of treasury and finance—and sidelined the most outspoken transatlantic skeptics.
Analysts close to the Turkish government were quick to assert that Turkey's moves constitute not so much a pivot to the West but a push to balance relations and mend troubled relationships in line with a course Turkey has been pursuing for many years. On the other hand, there is speculation that part of the impetus lies in the perception of a weakened Russia following the Wagner Group mutiny in June and its aftermath. What is clear is that a weaker Russian President Vladimir Putin renders Moscow a less reliable partner for Turkey. Particularly since the 2016 coup attempt against Erdoğan's government, Turkey-Russia relations have been driven from the top down by leader-to-leader chemistry. While Turkey and Russia's deep economic relations are unlikely to be interrupted or curtailed, the idea or illusion of Russia as a balance or alternative to the West in any kind of strategic sense will begin to fray.
This move from Erdoğan is a major win for Sweden, Turkey, and the whole Alliance. It's also a big win for the Biden administration and for NATO Secretary General Jens Stoltenberg, who both worked very hard behind the scenes to make the agreement possible.
The breakthrough followed soon after a phone call between the US and Turkish presidents and after a flurry of contact between US Secretary of State Antony Blinken and National Security Advisor Jake Sullivan and their counterparts. A major, yet unofficial, sweetener to the agreement appears to be the United States' assurance, issued one day after Erdoğan's agreement, that it will sell F-16 fighter jets to Turkey, which Turkey first requested in October 2021 (after its ejection from the F-35 program) but has been thus far blocked by Congress.
In a pre-NATO Summit interview over the weekend, Biden alluded to boosting support for both Greece and Turkey's defense capabilities simultaneously as a way to push the F-16 deal through Congress. That hearkens back to how the United States has historically balanced its two key allies in Southeastern Europe through aid dating back to the Truman Doctrine, which laid the groundwork for the eventual inclusion of both in NATO. It also underlines the importance of Turkey's warming of ties with Greece in the wake of the devastating earthquake this February. These factors may play a role in overcoming the concerns of key members of the US Congress, including Senate Foreign Relations Committee Chairman Robert Menendez (D-NJ), who confirmed that he is in talks with the Biden administration on the F-16 sale.
Finalizing Sweden's NATO accession—which still needs to be ratified by Turkey's parliament (as well as Hungary's)—and completing the F-16 deal would be big steps toward rebuilding trust between Turkey and its transatlantic partners. In a speech on July 12, Erdogan announced that Turkey's parliament will take up ratification after the long recess in October, in line with the parliamentary calendar.
One grievance from Turkey regarding its troubled transatlantic relationship is the perception that its Western allies have never fully appreciated Turkey's security concerns. Despite officially designating the PKK—Turkey's number one security threat—as a terrorist organization, the United States and Europe have not shown Turkey the deference that it feels due on this issue. This is in part due to the United States' cooperation with the PKK's Syrian affiliate to combat the Islamic State of Iraq and al-Sham. Turkey's temporary block on Sweden afforded Turkey the opportunity, in high-stakes fashion, to remind the Alliance that its concerns need to be taken more seriously moving forward.
One way to read Turkey's post-election foreign-policy posture is a willingness to improve its relations with the West. Over the past three years, Turkey has aggressively pursued and concluded rapprochements with many countries in its neighborhood including Israel, the United Arab Emirates, Saudi Arabia, and Egypt. While Turkey's relations with its NATO allies never deteriorated as much as they did with the aforementioned countries, there is without question room to improve. Turkey, Sweden, the United States, and NATO have all committed to win-win moves that would contribute to a more positive and productive atmosphere. Now, they all need to follow through.
---
Grady Wilson is associate director at the Atlantic Council IN TURKEY. Follow him on Twitter @GradysWilson.
Further reading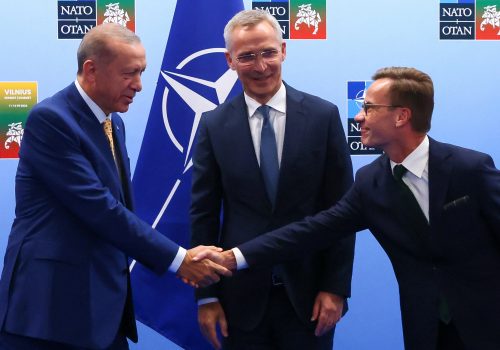 Mon, Jul 10, 2023
New Atlanticist By Atlantic Council experts
Atlantic Council experts weigh in on what's behind this dramatic and consequential turnabout from Erdoğan and what to expect next.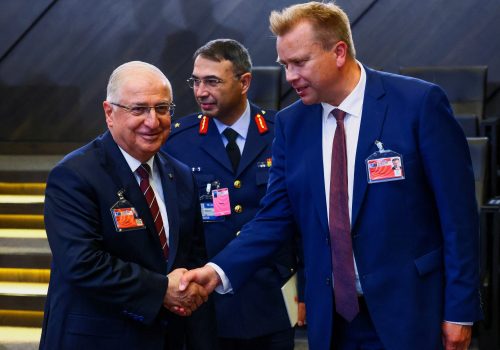 Sat, Jul 8, 2023
TURKEYSource By Rich Outzen, Pınar Dost
The long-awaited fighter jet deal is a puzzle piece in a broader strategic calculation about Ankara's role in NATO's Southeast.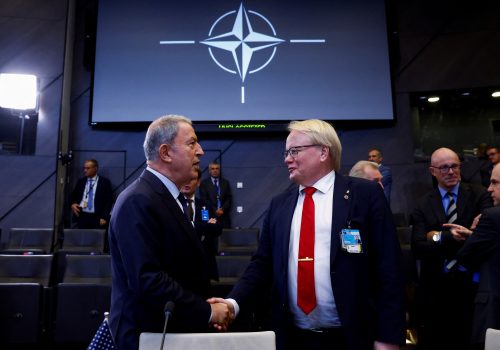 Tue, Apr 4, 2023
TURKEYSource By Grady Wilson, Pınar Dost
Turkey is not yet ready to greenlight Sweden's NATO accession but significant progress has been made. Here's a possible outline of a compromise.