Wed, Aug 28, 2019
Escalating trade tensions between the world's major economies are widely considered the greatest threat to the global economy's health. Following the White House's cancellation of its threatened tariffs on all Mexican imports on June 7, attention swiftly turned back to the brewing US-China trade war. This edition of the EconoGraphic, however, puts the focus on how US tariffs on cars and car parts might disrupt transatlantic trade flow.
EconoGraphics by OLE MOEHR | GRAPHICS BY MARIANNA ASLUND, NICK BROWN, ANDREW LASCALEIA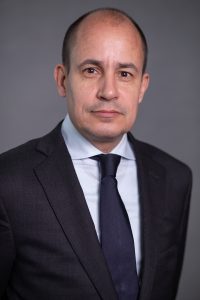 Director, Global Business & Economics Program
Mon, Sep 17, 2018
With the strengthening of the US dollar in the wake of continued interest rate increases by the US Federal Reserve and brewing pressures in a number of emerging market (EM), portfolio flows into EM countries slowed from $13.7 billion in July to just $2.2 billion in August. Companies and banks in both Argentina and Turkey borrowed heavily in dollar denominated debt while interest rates were low and are now faced with mounting debt burdens, which, if not backed by sufficient reserves puts them at risk for default if investors lose confidence. The Turkish lira has fallen over 40 percent in 2018. Its sharp decline in August raised concern of contagion to other markets, as the Indonesian rupiah, the South African rand, and the Indian rupee have also come under pressure. This edition of the Econographic compares situation in Turkey with the Asian financial crisis in 1997, analyzes root causes of the current pressures in Turkey, and assesses the broader implications for EM economies.
EconoGraphics by Christina Gay and Ole Moehr
Wed, Aug 8, 2018
While President Trump is pursuing a protectionist trade agenda – halting negotiations for the Transatlantic Trade and Investment Partnership (TTIP), pulling out of the Trans-Pacific Partnership (TPP), and threatening trade wars against adversaries and allies – Japanese Prime Minister Shinzo Abe has been doing just the opposite. As part of Abenomics' third arrow, the Prime Minister is forging global partnerships between Japan and other leading economies to foster economic growth. Case in point, the Japan-EU Economic Partnership Agreement (JEEPA) signed on July 17, 2018. This edition of the EconoGraphic will review this ambitious bilateral free trade agreement, assess its impact on the US economy, and explore the consequences of the United States' retreat from its role as the global leader for free trade.
EconoGraphics by Cecilia Pan and Ole Moehr
Thu, Jul 19, 2018
The Trump Administration's "maximum pressure" approach against Iran to reduce Iranian crude oil exports to zero as soon as possible is expected to rattle markets and could undermine the credibility and effectiveness of US sanctions. This edition of the EconoGraphic outlines how re-imposed US sanctions against Iran will affect the global oil market, the price of oil, US consumers, and the American economy.
EconoGraphics by Ole Moehr
Fri, Jun 22, 2018
Economists consider tariffs a tax on consumers. Case in point, President Trump's former chief economic advisor Gary Cohn. He recently warned that the administration's twenty-five percent tariff on steel and ten percent tariff on aluminum combined with threatened duties on Chinese goods could cancel out the 2017 tax cut. This edition of the EconoGraphic provides an overview of how the Trump Administration's steel tariffs might impact the US economy.
EconoGraphics by Ole Moehr
Mon, Jun 4, 2018
On May 25, the European Union's (EU) sweeping new data privacy regulation came into force. The General Data Protection Regulation (GDPR) provides EU residents with more control and protection of their data.
EconoGraphics by Ole Moehr
Fri, May 18, 2018
On April 6, 2018, the Trump Administration imposed stiff economic sanctions on 37 Russian oligarchs, oligarch-owned companies, Russian government officials, and state-owned companies.
EconoGraphics by Ole Moehr
Thu, Apr 12, 2018
Africa Embraces the Promise of Free Trade
EconoGraphics by Ole Moehr, Zachary Coles, and Alexatrini Tsiknia
Tue, Mar 20, 2018
Venezuela's Cryptocurrency: Should OFAC be Petrofied? The short answer is no.
EconoGraphics by Ole Moehr, Zachary Coles, and Alexatrini Tsiknia
Mon, Feb 26, 2018
Italians go to the polls on March 4th to elect a new government. Under a new electoral system, the outcome is uncertain. The Global Business and Economics program looks at some key economic indicators that could influence the election.
EconoGraphics by Alexatrini Tsiknia and Ole Moehr
Tue, Feb 6, 2018
This edition of our EconoGraphic blog explains the difference between primary and secondary sanctions, outlines how secondary sanctions work, and uses a case study to demonstrate how the United States employs secondary sanctions in the real economy.
EconoGraphics by Ole Moehr