Wed, Aug 28, 2019
Escalating trade tensions between the world's major economies are widely considered the greatest threat to the global economy's health. Following the White House's cancellation of its threatened tariffs on all Mexican imports on June 7, attention swiftly turned back to the brewing US-China trade war. This edition of the EconoGraphic, however, puts the focus on how US tariffs on cars and car parts might disrupt transatlantic trade flow.
EconoGraphics by OLE MOEHR | GRAPHICS BY MARIANNA ASLUND, NICK BROWN, ANDREW LASCALEIA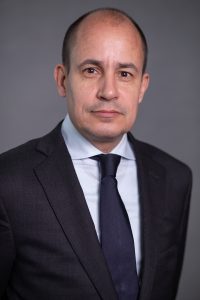 Senior Fellow, Global Business and Economics Program
Mon, Apr 29, 2019
On April 26, following stronger than expected US economic growth numbers, the White House's National Economic Council director, Larry Kudlow, urged the Federal Reserve (Fed) to cut interest rates by 50 basis points.
EconoGraphics by Ole Moehr | Graphics by Shiqing Hua and Francis Aubee
Wed, Feb 6, 2019
On January 16, a US Senate resolution to maintain US sanctions on the Russian aluminum giant RUSAL and its holding company EN+ failed to garner the necessary 60 votes to pass. As a result, the Trump administration lifted its economic sanctions on RUSAL and EN+ on January 27.
EconoGraphics by Ole Moehr | Graphics by Shiqing Hua and Zachary Coles
Fri, Dec 21, 2018
December 2018 is set to become the worst year-end finish for US markets since 1931. A yield curve inversion combined with the fourth annual rate hike by the US Federal Reserve (Fed) and growing geo-political uncertainty, triggered widespread angst among US investors about an economic slowdown and the increasing probability of a recession. This edition of the EconoGraphic assesses key economic indicators to make a case that while a slowing of the US economy seems certain, a recession in the next two years remains unlikely.
Blogs by Global Business & Economics Program
Wed, Dec 5, 2018
At this year's G20 summit in Buenos Aires, the trade dispute between China and the United States took center stage. Chinese President Xi and his US counterpart President Donald Trump agreed to avoid further escalations of the ongoing bilateral trade war for the next 90 days. The temporary deal does not assuage the escalatory measures already taken, leaving the existing tariffs in place. This edition of the EconoGraphic explores how the brewing trade conflict is impacting manufacturing supply chains, soybean cargo routes, and trade flows of liquefied petroleum gas (LPG) among the United States, China, and the rest of the world.
EconoGraphics by Ole Moehr
Tue, Oct 30, 2018
With the snapback of significant US sanctions against Iran fast approaching on November 5th, speculation is mounting over how the Trump Administration will enforce the sanctions, and how its European allies might attempt to bypass them. The previous EconoGraphic outlined how a Special Purpose Vehicle (SPV) may facilitate trade between European small and medium-sized enterprises (SMEs) and Iran after US sanctions go back into effect. This edition of the EconoGraphic provides a primer on the Society for Worldwide Interbank Financial Telecommunication (SWIFT) and explains why sanctioning the financial messaging service would likely cause more harm than good.
EconoGraphics by Ole Moehr
Tue, Oct 9, 2018
The European Union's (EU) foreign policy chief, Federica Mogherini, recently announced that the EU will set-up a special purpose vehicle (SPV) "to facilitate legitimate financial transactions with Iran and allow European companies to continue to trade with Iran." In response, our visiting senior fellow, Samantha Sultoon, argued that this SPV will not provide a reliable path around US sanctions, and may undermine the effectiveness of US and EU sanctions in the long-run. This edition of the EconoGraphic explains how the SPV would work in practice and outlines why this mechanism is unlikely to offer Iran enough economic upside to keep the Joint Comprehensive Plan of Action (JCPOA) alive.
EconoGraphics by Ole Moehr
Mon, Sep 17, 2018
With the strengthening of the US dollar in the wake of continued interest rate increases by the US Federal Reserve and brewing pressures in a number of emerging market (EM), portfolio flows into EM countries slowed from $13.7 billion in July to just $2.2 billion in August. Companies and banks in both Argentina and Turkey borrowed heavily in dollar denominated debt while interest rates were low and are now faced with mounting debt burdens, which, if not backed by sufficient reserves puts them at risk for default if investors lose confidence. The Turkish lira has fallen over 40 percent in 2018. Its sharp decline in August raised concern of contagion to other markets, as the Indonesian rupiah, the South African rand, and the Indian rupee have also come under pressure. This edition of the Econographic compares situation in Turkey with the Asian financial crisis in 1997, analyzes root causes of the current pressures in Turkey, and assesses the broader implications for EM economies.
EconoGraphics by Christina Gay and Ole Moehr
Wed, Aug 8, 2018
While President Trump is pursuing a protectionist trade agenda – halting negotiations for the Transatlantic Trade and Investment Partnership (TTIP), pulling out of the Trans-Pacific Partnership (TPP), and threatening trade wars against adversaries and allies – Japanese Prime Minister Shinzo Abe has been doing just the opposite. As part of Abenomics' third arrow, the Prime Minister is forging global partnerships between Japan and other leading economies to foster economic growth. Case in point, the Japan-EU Economic Partnership Agreement (JEEPA) signed on July 17, 2018. This edition of the EconoGraphic will review this ambitious bilateral free trade agreement, assess its impact on the US economy, and explore the consequences of the United States' retreat from its role as the global leader for free trade.
EconoGraphics by Cecilia Pan and Ole Moehr
Thu, Jul 19, 2018
The Trump Administration's "maximum pressure" approach against Iran to reduce Iranian crude oil exports to zero as soon as possible is expected to rattle markets and could undermine the credibility and effectiveness of US sanctions. This edition of the EconoGraphic outlines how re-imposed US sanctions against Iran will affect the global oil market, the price of oil, US consumers, and the American economy.
EconoGraphics by Ole Moehr
Fri, Jun 22, 2018
Economists consider tariffs a tax on consumers. Case in point, President Trump's former chief economic advisor Gary Cohn. He recently warned that the administration's twenty-five percent tariff on steel and ten percent tariff on aluminum combined with threatened duties on Chinese goods could cancel out the 2017 tax cut. This edition of the EconoGraphic provides an overview of how the Trump Administration's steel tariffs might impact the US economy.
EconoGraphics by Ole Moehr