As the global community continues to grapple with COVID-19 (coronavirus), the Atlantic Council is open for business. Our business, meetings, and events, however, are occurring virtually. For more information, please read a statement from our President and CEO.
The United States and the Republic of Korea (ROK) are longstanding civil nuclear partners. However, the domestic nuclear energy industries in both countries are struggling. The new Atlantic Council report, Advancing US-ROK Cooperation on Nuclear Energy, examines opportunities for bilateral collaboration to revitalize the nuclear energy industry in each country.
Please join the Atlantic Council Global Energy Center on Wednesday, March 3, from 6:00 – 7:00 p.m. EST for the launch of the new report and a conversation about how the United States and ROK can leverage their shared interests in nuclear energy research and development and advanced technology to strengthen bilateral trade and exports to third-party countries.
Please join this timely conversation via the web application Zoom, which is accessible through your web browser, the Zoom desktop or mobile app, and by phone. If you wish to join the question and answer period, you must join by app or web. You must register to receive further information on how to join the virtual audience.
Agenda
Opening remarks by
Amb. Thomas Graham, Jr.
Co-Chairman, Nuclear Energy and National Security Coalition
Atlantic Council;
Executive Chairman of the Board
Lightbridge Corporation
A conversation with
Stephen Greene
Nonresident Senior Fellow, Global Energy Center
Atlantic Council
John Hopkins
Chairman and CEO
NuScale Power
Hong-Kyu Kang
General Manager of Nuclear Marketing and Sales
Doosan Heavy Industries and Construction
Jae-Soo Ryu
Director of International Relations
Korea Atomic Energy Research Institute
Moderated by
Dr. Jennifer Gordon
Managing Editor and Senior Fellow, Global Energy Center
Atlantic Council
Related content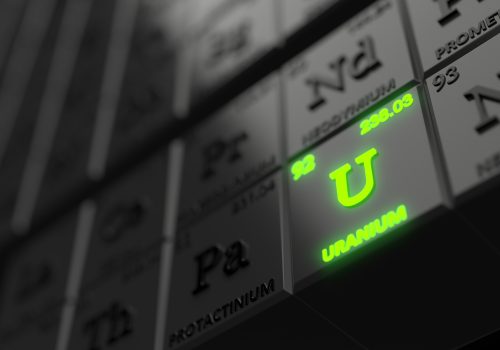 Fri, Feb 19, 2021
Lack of a long-term, reliable source of high-assay low-enriched uranium (HALEU) fuel represents a critical risk to the deployment of advanced reactors, which could be a key source of carbon-free electricity in the future. However, a HALEU fuel bank could resolve the conundrum facing advanced reactor developers and potential HALEU fuel suppliers by supporting the production of HALEU for advanced reactors and resolving the uncertainty faced by reactor developers and their potential customers and sources of financing.
EnergySource by Stephen S. Greene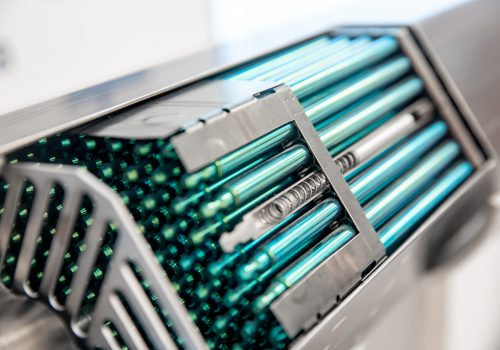 Fri, Feb 12, 2021
Over the past five years, the United States has made meaningful progress in the development of advanced nuclear reactor designs critical to keeping the country on the cutting edge of nuclear technology. These positive trends signal a growing need for the Department of Energy to address a key challenge that many reactor developers face as they move toward deployment: the lack of a reliable source of high-assay low-enriched uranium fuel.
EnergySource by Ambassador Thomas Graham, Jr. and Admiral Richard Mies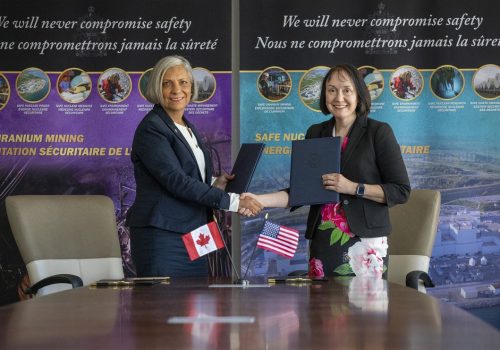 Thu, Jan 9, 2020
The United States and its allies in civil nuclear cooperation have struggled in recent years to compete against state-owned nuclear enterprise exports. Since nuclear energy agreements establish decades' long relationships between the vendor and purchasing countries, and the United States and its allies wish to export their high safety and nonproliferation standards along with technologies, it is vital that the United States regains its position of global leadership on nuclear energy exports. As Russia and China seek out third-party countries with demand for nuclear energy, can the United States and its allies determine how to cooperate on co-financing agreements and become greater than the sum of their parts?
Issue Brief by Jennifer T. Gordon
Subscribe to DirectCurrent
Sign up for the Global Energy Center newsletter to stay up to date on the program's work.
Register
Please complete the information below. Items marked with an * are required.