About the project
The third largest country in Africa, Sudan sits at the intersection–both geographically and culturally–of the Arab and African worlds and, as such, exerts great influence in a turbulent region. In the wake of longtime president Omar al-Bashir's removal from power in April 2019, and the ensuing turbulence, the country remains pivotal. While governance in Sudan has long been of interest to the United States, in recent years the United States adopted a policy of engagement–rather than isolation–as it seeks to promote positive change in Sudan.
Featured commentary & analysis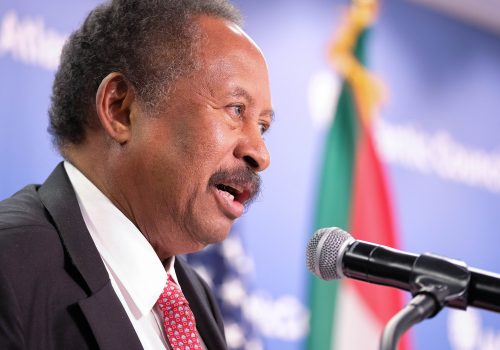 Fri, Dec 6, 2019
Sudanese Prime Minister Abdalla Hamdok became the first Sudanese leader to travel to Washington, DC in more than thirty years, seeking to win more international support for his transitional government as it tries to guide Sudan towards democracy. "There is a success story that is emerging" in Sudan, Hamdok told an audience at the Atlantic Council on December 5. In a "region full of crises and riddled with conflicts, Sudan provides hope," Hamdok declared.
New Atlanticist by David A. Wemer

Mon, Mar 16, 2020
No aspect of US policy towards Sudan has garnered more scrutiny, from both inside and outside the country, than Sudan's continued designation on the US State Sponsors of Terrorism list. But the issue itself—whether Sudan should remain on the list and what would be required to remove it—is vastly complicated.
AfricaSource by Cameron Hudson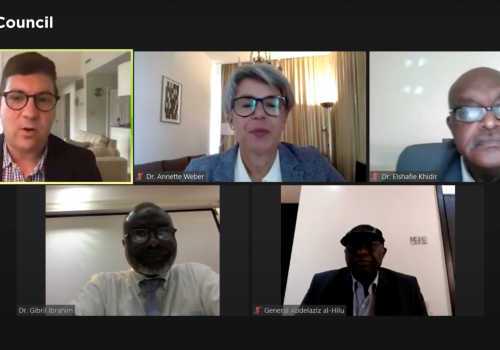 Tue, Aug 25, 2020
On Tuesday, August 25, the Africa Center hosted a panel discussion on the status of and challenges to the peace process in Sudan. The panel featured General Abdelaziz al-Hilu, Chairman of the Sudan People's Liberation Movement-North (SPLM-N); Dr. Gibril Ibrahim, Chairman of the Justice and Equality Movement; Dr. Elshafie Khidir, Sudanese political advisor and commentator; and Dr. Annette Weber, Senior Fellow at the German Institute for International and Security Affairs.
Event Recap by Africa Center
Featured reports & research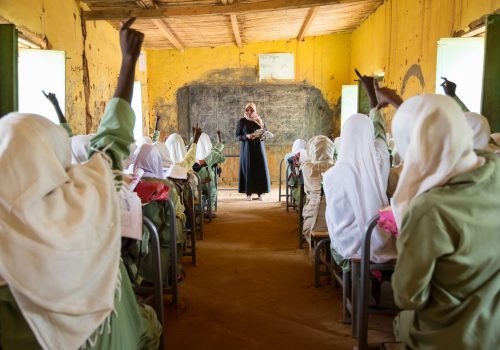 Thu, Mar 8, 2018
The third paper in the new Atlantic Council Sudan Task Force series, "Sudan: Soft Power, Cultural Engagement, and National Security" examines the importance of people-to-people engagement and its relevance to broader US strategic aims in Sudan. More than two decades of isolation have succeeded in funneling Sudan's best and brightest to seek higher education and […]
Issue Brief by Tim Carney and Mary Carlin Yates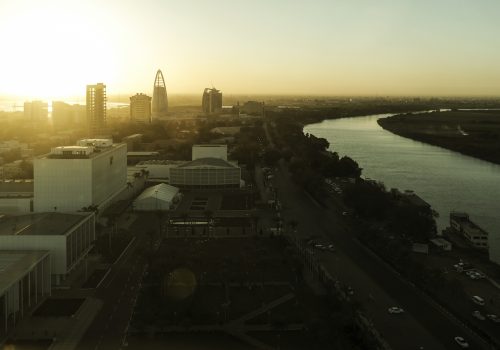 Thu, Mar 8, 2018
The second paper in the new Atlantic Council Sudan Task Force series, "Sudan: Prospects for Economic Re-engagement" examines the possibility of a new era of US economic cooperation with Sudan, including an opportunity for the United States to push for desperately needed economic reforms as part of wider US bilateral engagements efforts. Authored by Dr. […]
Issue Brief by Jeffrey Herbst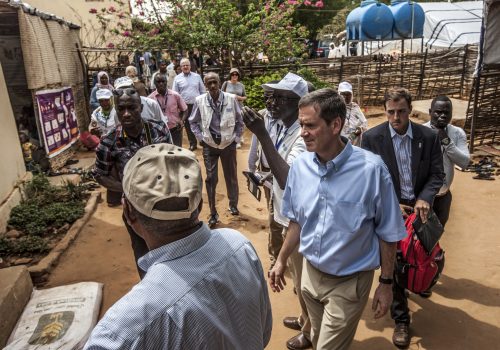 Thu, Mar 8, 2018
The first paper in the new Atlantic Council Sudan Task Force series, "Sudan: Politics, Engagement, and Reform" examines the political landscape in the country in the wake of renewed bilateral engagement, addressing questions of governance, inclusion, and reform. Co-authored by Ambassador Johnnie Carson and Zach Vertin in collaboration with the Council's Sudan Task Force, the […]
Issue Brief by Johnnie Carson and Zach Vertin
Experts
All content