Recent elections in the Czech Republic, Latvia, and Estonia have pointed to a trend of pro-Russian candidates and parties performing poorly, with voters instead rewarding those who advocate for continued support for Ukraine, even when faced with the severe economic consequences of the war. Now comes Montenegro, which votes for its next president on March 19, a contest that, among other issues, offers a litmus test of malign Russian influence in the region and of the effectiveness of US-EU efforts to provide an alternative path forward. With seven candidates running for president in the first round and—assuming none clears 50 percent of the vote—a second round likely on April 2, the question of whether Montenegro will continue this trend or move closer toward Moscow's orbit remains very much in doubt.
With a population of just over six hundred thousand, Montenegro plays a crucial role in maintaining stability in the Western Balkans and is a key factor in ensuring NATO's full control of the Adriatic coast. The country's accession to NATO in 2017 reinforced the security and stability of the region and signaled to other Western Balkan countries that NATO's door remains open to them. But beyond that, NATO membership also signaled that Montenegro is ready and able to implement the necessary reforms that would lead to European Union (EU) membership.
While the country enjoyed a long-held status as a regional frontrunner for EU accession, events of the past two years have cast doubt on this prospect. Last summer, the government signed a controversial property agreement with the Serbian Orthodox Church, which does not fully recognize Montenegro's independence from Serbia or an autocephalous Montenegrin Orthodox Church, triggering an extended period of ethnic tensions and political instability. This resulted in Prime Minister Dritan Abazovic losing a no-confidence vote and a blockade of the constitutional court.
Relations with the Serbian Orthodox Church have long divided Montenegro into two camps, one that seeks close connections between the state and the church and one that advocates for further distance based on the contention that the church embodies an ongoing Serbian influence. As a result, the prospect of Montenegro's EU membership now seems weak, with the European Commission expressing concern over political volatility, government instability, and lagging reform implementation in its yearly assessment of Montenegro's progress toward accession benchmarks.
Russian meddling in the upcoming election is of great concern, as well. The Kremlin is no stranger to weaponizing cultural and religious connections in Montenegro. In 2019, fourteen people, including two alleged Russian intelligence agents, were convicted of attempting to overthrow the government in Podgorica and prevent the country from joining NATO.
The US State Department has warned of expected Russian attempts to stir ethnic tensions ahead of the election. Domestic sympathy in Montenegro for Russian aims could provide an opportunity for Russian interference, as some candidates are openly pro-Russian and seek to distance Montenegro from NATO and the European Union. As such, Montenegro risks becoming another victim of Russian President Vladimir Putin's fight against the West.
While the Montenegrin president's role is chiefly ceremonial, the office does have the power to accept or reject candidates for the prime minister's job. The current president, Milo Djukanovic, for example has used that power to block a candidate in the past year, demanding instead that a new prime minister be chosen through new parliamentary elections, a move previously encouraged by US officials to break the political deadlock and refocus on delivering key reforms. It took until the prime minister-designate's three-month constitutional deadline to form a government expired, but Djukanovic dissolved parliament on Thursday and called for extraordinary elections to take place as early as May or June.
Key candidates running for president of Montenegro:
Milo Djukanovic is the incumbent who has served as Montenegrin prime minister six times and as the country's president twice. He is the longest-running European leader. Djukanovic and his party are pro-EU but he is associated with a range of corruption scandals.
Andrija Mandić, a main challenger to Djukanovic, is a leader of Democratic Front, a pro-Russian party and pro-Serbian party with close ties to Belgrade.
Aleksa Bečić comes from the Democratic Montenegro party. He labels himself a civic politician, but his politics and those of his party are largely seen as pro-Serbian.
Jakov Milatović, a political newcomer from the Europe Now party, is trying to prove his pro-EU credentials. He previously served as the minister of economy under a government with strong ties to the Serbian Orthodox Church.
The other three candidates do not appear to stand a realistic chance of getting to a second round.
This high-stakes election will help determine whether Montenegro and the region will fall further under Russian influence or if the prospect of EU membership provides a strong enough incentive for voters to remain committed to a European perspective. The international community should closely watch Montenegro to see whether Russian influence is on the rise in the Western Balkans or whether a heartening political trend will continue.
---
Luka Ignac is a program assistant with the Atlantic Council's Europe Center.
Kevin Morris is a young global professional with the Atlantic Council's Europe Center
Further reading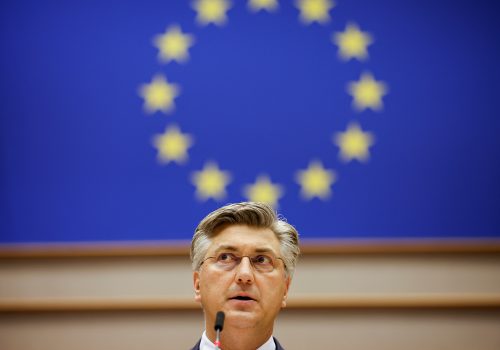 Wed, Mar 1, 2023
New Atlanticist By Nick Fouriezos
Croatian Prime Minister Andrej Plenković appeared at an Atlantic Council Front Page event where he spoke about the war in Ukraine, his country's path to the EU, and more.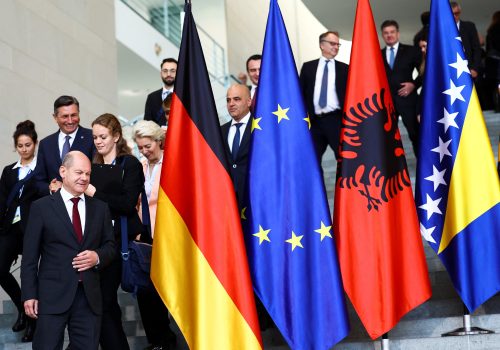 Thu, Nov 3, 2022
New Atlanticist By Damir Marusic, Maja Piscevic, Jörn Fleck
Thursday's Western Balkans summit is a sign of momentum for regional economic cooperation and integration—and it couldn't come at a more important time.
Fri, Aug 19, 2022
New Atlanticist By Damir Marusic, Luka Ignac
The West must pursue ambitious statesmanship to break the impasse between Kosovo and Serbia, as Russia's war in Ukraine has shifted regional dynamics.