About the Council
The Atlantic Council promotes constructive leadership and engagement in international affairs based on the Atlantic Community's central role in meeting global challenges. The Council provides an essential forum for navigating the dramatic economic and political changes defining the twenty-first century by informing and galvanizing its uniquely influential network of global leaders. Through the papers we write, the ideas we generate, and the communities we build, the Council shapes policy choices and strategies to create a more secure and prosperous world.

Shaping the future together
Making a difference
Learn more about the Atlantic Council's insights & impact through these stories of how our regional and thematic programs are making a difference not only in shaping how we view global issues but also in shaping their outcome.

Mon, Feb 3, 2020
On January 24, 2020, the DFRLab's DC team took to Capitol Hill to train a group of 16 bipartisan senior congressional staffers on key tools and tactics to help them navigate the information environment and spot the truth.
Insights & Impact by Atlantic Council

Thu, Oct 31, 2019
How can the rules-based international system be re-created for the 21st century? Can and should the US re-build a liberal, rules-based international system? What goals should the US, and its allies, pursue in a changed world, where emerging risks and enduring challenges persist? Those were some of the key questions which animated the event Present […]
Insights & Impact

Mon, Sep 23, 2019
On September 23, on the sidelines of the UN General Assembly meeting and Climate Week activities in New York City, the Global Energy Center hosted a private roundtable launching its latest report, Assessing Blockchain's Future in Transactive Energy, authored by David Livingston, deputy director, climate and advanced energy at the Atlantic Council Global Energy Center […]
Program Impact Story by Atlantic Council
Latest commentary and analysis

Wed, Feb 26, 2020
Russia and China are competing for nuclear industry market share, not working together to dominate, and China's rise gives Russia a real competitor in nuclear energy—that is good for the United States.
EnergySource by David Yellen

Wed, Feb 26, 2020
The appointment of Andriy Yermak as President Zelenskyy's new chief of staff has sparked debate over Yermak's ties to Moscow and links to pro-Russian Ukrainian politicians. Is Zelenskyy preparing for a thaw in ties with the Kremlin?
UkraineAlert by Diane Francis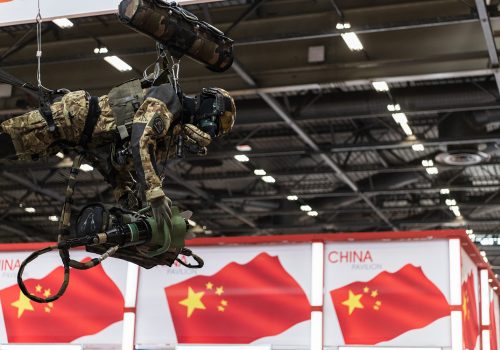 Wed, Feb 26, 2020
Washington's once unrivaled military strength is now increasingly challenged by that of its adversaries. To stay ahead, the United States must restructure its relationship with commercial companies by reducing regulation that hinders innovation, speed, and the ability for private industry to access government contracts.
New Atlanticist by Stephen Rodriguez
Latest in-depth research and reports

Tue, Feb 11, 2020
This brief begins with a discussion of the modern Iranian state's approach to information and information control. It proceeds to a history of the Iranian Internet. Next, it examines the evolution of Iranian digital influence operations, followed by a discussion of the broader information conflict in which they take place. The brief concludes by considering the future nature and intent of Iran's clandestine digital activities.
Report by Emerson T. Brooking, Suzanne Kianpour

Thu, Feb 6, 2020
Withdrawal timetables do not achieve the political benefits that policymakers desire, but they do incur the risks policymakers rightly fear.
Report by Paul D. Miller
Thu, Feb 6, 2020
Transmisión en vivo del lanzamiento del informe en Washington Video: Lanzamiento del grupo de expertos de Colombia y Estados Unidos del Atlantic Council Para compartir en redes sociales Ex presidente y CEO de OPIC David Bohigian hablando sobre la importancia de invertir en las personas Senator de Estados Unidos Ben Cardin hablando sobre la cooperación […]
In-Depth Research & Reports by the Atlantic Council's US-Colombia Task Force
Mon, Feb 24, 2020
The United States leads the global deployment of carbon capture and storage (CCS) technologies. A progressive policy framework and sustained government support have launched the roll-out of the next generation of CCS facilities. With impacts of climate change becoming ever more devastating, and the need to eliminate emissions as soon as possible, these are welcome developments. However, […]
In the News