Watch the full event
To Ukrainian tennis player Elina Svitolina, forgoing handshakes with Russian and Belarusian competitors is much more than an individual choice.
It reflects "the position of all Ukrainians… we are here to win this war," she said, explaining that the fight for sovereignty begins with the media—which reported on Svitolina's handshake refusals at Wimbledon at length—and finishes with the brave "men and women who are fighting on the front line."
Just weeks after her Wimbledon appearance—where the unseeded tennis player made it to the semi-finals and became a crowd favorite—Svitolina told the Atlantic Council about how athletes are "doing everything possible" to give Ukrainian fighters support. At the Atlantic Council Front Page event on Thursday, cohosted by the Women's Foreign Policy Group and the Council's Eurasia Center, Svitolina pointed out how Ukrainian fencer Olga Harlan had earlier that day been disqualified from the World Fencing Championships for refusing to shake the hand of her Russian opponent.
For the tennis star, the disqualification brought flashbacks to having been booed over refusing to shake hands with Belarusian player Aryna Sabalenka at the French Open last month.
Svitolina argued that it is not possible to separate sports from politics, especially when the players are from Russia and Belarus. "Their governments are using the athletes fully," she said. "They really use them as a weapon in the media" and in "propaganda." She also pointed out that some Russian athletes have had positions in the military—the same military that employs soldiers who have forcibly removed children and killed Ukrainian fighters.
"As a Ukrainian, I cannot be silent," she said. "I want to scream everywhere I can and use my voice [to] the fullest."
Below are highlights from the event, which was moderated by CBS News's Margaret Brennan and touched upon the power of Ukrainian athletes, the Ukrainian fighting spirit, and the next generation of Ukrainian tennis stars.
More support needed from the sports world
The Women's Tennis Association stated that it is up to each player to decide whether or not to shake hands. "I think the other sports federations, they should do the same," Svitolina argued. "They should respect our decision, the decision of our country." She added that "it's really terrible what's happening in the sports world, that we [Ukrainians] don't get the respect of our decision."
On July 26, Ukraine lifted its ban on athletes competing against Russians and Belarusians so long as the opponents compete under neutral banners. "I think this was the right decision," Svitolina said. With the Paris 2024 Olympics one year away, Svitolina explained that behind the scenes, the Ukrainian sports minister is "doing everything possible" to work with the International Olympic Committee on finding a solution that respects the Ukrainian position on competing and interacting with Russian and Belarusian athletes.
Svitolina argued that exceptions should only be made if Russian and Belarusian athletes "come out with a clear statement… against their governments," and remain vocal over time. But over the past year and a half, she explained, "we got nothing—and now it's too late."
Athletes globally can do more to support Ukraine, according to Svitolina. "I think being vocal is really the least you can do… to raise the awareness that the war is still ongoing." Beyond that, she implored them to not be scared about taking the responsibility to speak out.
Svitolina explained that fans also have a role to play in supporting Ukrainians; that can include everything from waving flags at tournaments to sending donations to organizations supporting Ukrainians at home. Do "what speaks to you," she told fans. "It really motivates me to do better, to do more."
The next generation of sport stars
Svitolina established a charitable foundation that supports young gifted tennis players in Ukraine. The foundation is planning to host tournaments in Kyiv and other Ukrainian cities over the coming months. "I know how much kids love to compete, how much they love to play."
However, "safety is the [first] priority," Svitolina said, recounting how when the war started, the foundation worked to try to relocate the kids and families that the foundation supports. And today, the foundation specifically locates courts that are in safe areas or near bomb shelters.
The foundation also provides mental health services to the families. Svitolina noted that there's "generally a lot of pressure" in tennis and other sports. And in addition, the budding athletes have seen immense suffering and hardship over the past year and a half. "It's really damaging mentally," she explained. "You need someone who will be there helping you on [a] mental level."
A fighting spirit
When it comes to getting in the zone on the court, Svitolina said she draws motivation from "the fighting spirit, the strength that Ukrainians have." She added that it is an honor for her to have the power and platform of being a global tennis player, "to have [a] voice that I can use at different levels, especially right now during the war."
Svitolina hails from Odesa, which has seen a slew of deadly strikes from Russia, especially over the past several weeks. "[Russians] say that there was no attack in Odesa," Svitolina said, calling Moscow out for its disinformation, "when I [just had] a call with my grandmother, and she said that her building was shaking from the missiles."
In addition to being a star tennis player, Svitolina is also a United24 ambassador and a new mom, having given birth to a daughter just nine months ago. She said her mission to bring "light" and "hope for all Ukrainians" motivated her to come back to competition as soon as possible, "not only for myself… but also for the Ukrainian people in this horrible time."
"Women are so strong, we don't even know how strong we are," Svitolina said. She encouraged other new moms to take time to recover, and then take their post-partum journey one day at a time. "We all have this power in us that we need to discover."
---
Katherine Walla is an associate director of editorial at the Atlantic Council.
Watch the full event
Further reading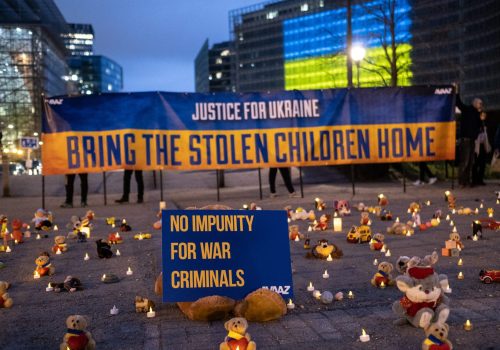 Thu, Jul 27, 2023
UkraineAlert By Vladyslav Havrylov
Vladimir Putin has already been charged with war crimes by the International Criminal Court over the mass abduction of Ukrainian children. Many believe the deportations quality as genocide, writes Vladyslav Havrylov.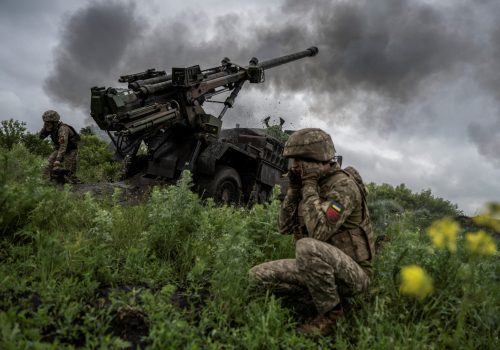 Tue, Jun 6, 2023
UkraineAlert By Tennyson Dearing
Ukraine's summer counteroffensive is an important moment in the war with Russia but it is critical to maintain a sense of perspective and underline the need for long-term Western backing, writes Tennyson Dearing.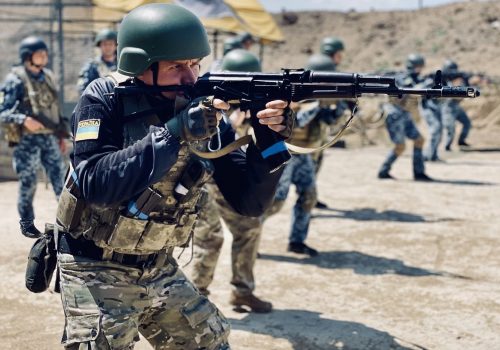 Mon, Jun 26, 2023
UkraineAlert By Arseniy Yatsenyuk
Former Ukrainian Prime Minister Arseniy Yatsenyuk offers his five-step vision for the decisive defeat of Russia's Ukraine invasion and a genuinely sustainable peace in Eastern Europe.