Improving Gulf security: A framework to enhance air, missile, and maritime defenses
This report is the final product of the Scowcroft Middle East Security Initiative's Gulf Security Task Force, a team of experts whose US government experience includes senior roles at the Department of Defense, Department of State, White House, and Intelligence Community. The Task Force joined together to shape this new strategy, with an eye on sustainable success in protecting both US and allies in the Gulf. The views expressed in the report are those of the authors and not their respective institutions.
Looking at decades of US support and operations in the Gulf and recognizing a continued, arguably growing, air and maritime threat from Iran, the Atlantic Council Gulf Security Task Force developed a framework on how to best protect US and allies' interests in this sensitive, always relevant region. The report provides US decision-makers with an updated, fact-based strategy for protecting its interests in the air and maritime domain from the Persian Gulf to the Red Sea, while ensuring Gulf partners' ability to assume this responsibility, with the assistance and leadership of the United States.
In this capstone report, "Improving Gulf Security: A Framework to Enhance Air, Missile, and Maritime Defenses", the Gulf Security Task Force brings together their cross-section of expertise to address the nature of the threats and provide practical policy solutions for the development of an integrated air, missile, and maritime defense in the Gulf, that provides long-term, reliable protection for the US and our partners' security in the region.
---
Competing Security Interests in the Arab Gulf

---
Authors
---
---
Further reading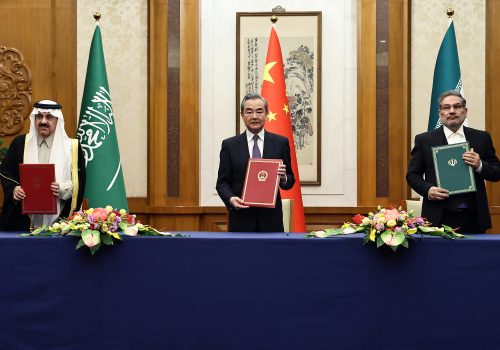 Fri, Mar 10, 2023
Fast Thinking By Atlantic Council
What does this move mean for one of the Middle East's defining rivalries? How should the United States view China's role in the breakthrough? Our experts dig beyond the diplomat-speak.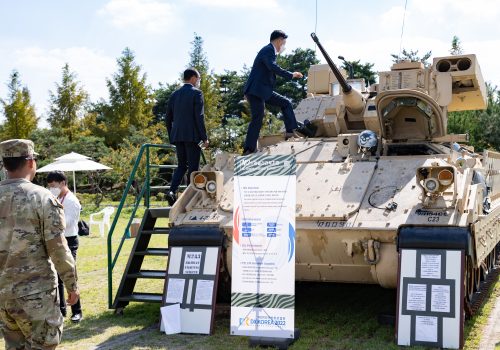 Thu, Mar 9, 2023
New Atlanticist By R. Clarke Cooper
The Biden administration's new Conventional Arms Transfer (CAT) policy in late February is unnecessary and potentially more cumbersome than what's already on the books.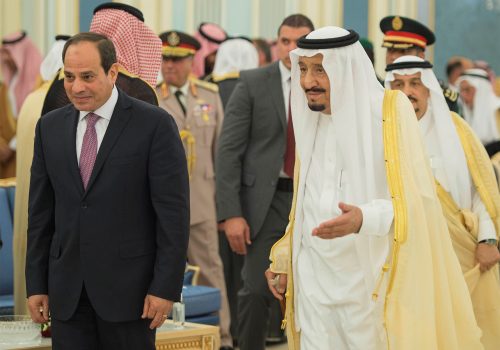 Mon, Feb 27, 2023
MENASource By Shahira Amin
Cairo's relationship with its Gulf ally has become increasingly fractious in recent weeks after a Saudi official made clear that any future Gulf assistance "will come with strings attached."