Featured commentary & analysis
We offer real-time analysis and commentary on a range of economic issues including international trade, economic sanctions, the European economy, and inclusive growth.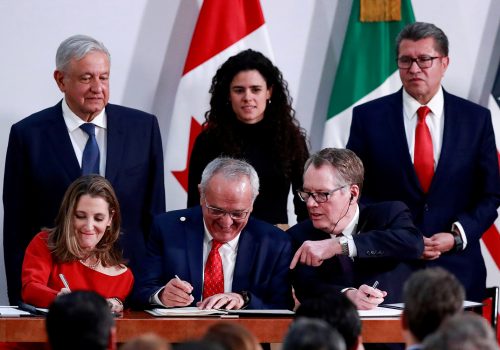 Wed, Jul 1, 2020
"Together, Canada, Mexico and the United States make North America an energy, manufacturing, and innovation powerhouse," Damon Wilson says. "The USMCA helps unlock this potential, offering greater prosperity for these nations' citizens and positioning democracies in North America to better shape global standards and compete with China."
New Atlanticist by David A. Wemer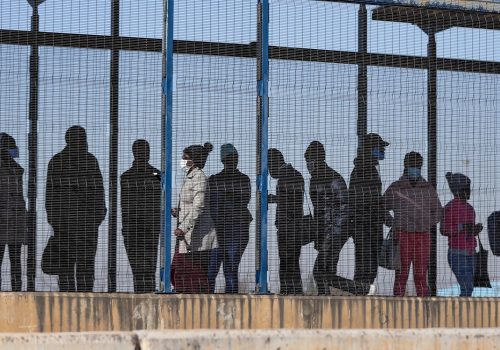 Tue, Jun 30, 2020
While policymakers have called for a moratorium on developing countries' debt payments, bankers and bondholders have raised the alarm about how such action would decimate their bottom lines. There will need to be another approach.
New Atlanticist by Jeremy Mark and Vasuki Shastry

Mon, Jun 29, 2020
While the USMCA preserves free-trade flows among the three member countries, its use by the United States as a template for future trade negotiations, starting with the EU and the United Kingdom, would have a far-reaching effect on future developments of world trade.
New Atlanticist by Hung Tran
Econographics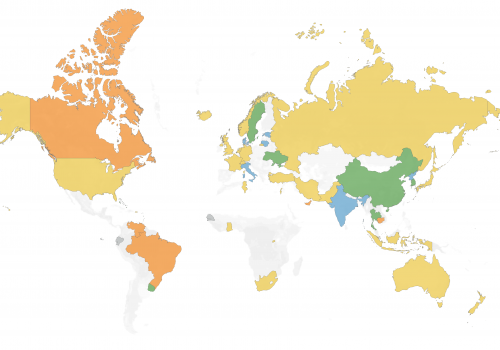 Tue, Jun 16, 2020
What exactly is a Central Bank Digital Currency (CBDC) and how is it different than your credit card?
EconoGraphics by Global Business and Economics Program and Belfer Center for Science and International Affairs
Fri, May 8, 2020
This edition of the EconoGraphic compares Covid-19's impact with previous economic shocks, presents data on how public health restrictions influenced economic recoveries during the Spanish Flu, and contrasts US states' reopening decisions with unemployment trends across the country.
EconoGraphics by Ole Moehr | Graphics by Nikolai Albishausen and William Bonney
Sun, Apr 26, 2020
How does the G20 COVID-19 fiscal response compare to the Global Financial Crisis?
EconoGraphics by
Featured in-depth research & reports
Our in-depth research informs the decisions of government officials and business executives and helps them navigate an increasingly uncertain macroeconomic and geopolitical environment.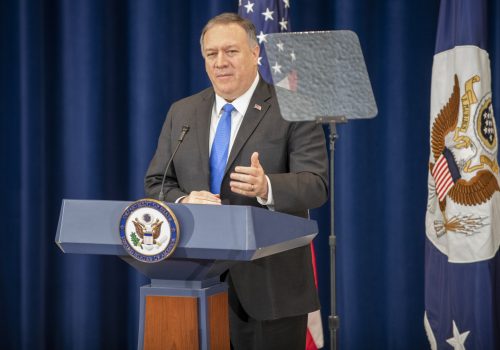 Mon, May 11, 2020
Two years ago, US President Donald J. Trump walked into the White House Diplomatic Reception Room and announced his intention to withdraw the United States from the Joint Comprehensive Plan of Action (JCPOA). The Trump administration reimposed sanctions on Iran and has adopted a policy of "maximum pressure" to compel Iran to change its behavior […]
Issue Brief by David Mortlock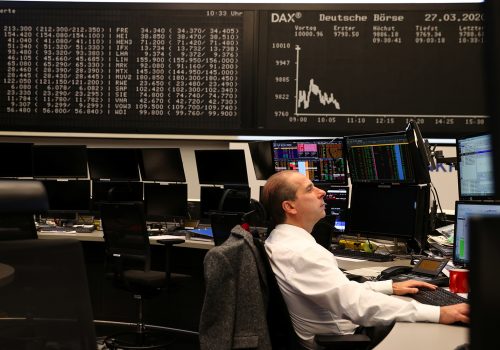 Tue, May 5, 2020
There are more differences than similarities in comparing both crises, and others may still emerge as time goes. History doesn't repeat itself; it stutters. And, of course, what will matter afterwards is to really draw the appropriate lessons to revisit our development models and better prevent and/or limit future crises.
New Atlanticist by Marc-Olivier Strauss-Kahn

Mon, Mar 16, 2020
US President Donald J. Trump's administration has found it challenging to maintain a consistent position with respect to Russian President Vladimir Putin's repression at home and aggression abroad. It may again fall to Congress to attempt to counter Russia's election interference, already ongoing in the form of disinformation; back Ukraine as its government seeks to […]
Issue Brief by Daniel Fried & Brian O'Toole
Subscribe