What sets apart the Atlantic Council is the clarity of its mission, the dynamic character of its work, and the results-oriented culture of its staff. Our stated mission sounds simple enough, "Shaping the Global Future Together." To achieve that, however, requires work that goes beyond arm's-length analysis and galvanizes US leadership alongside partners and allies to tackle the defining challenges of our era. To achieve that, our team of intellectual entrepreneurs design their projects to achieve results.
At the end of each calendar year, our staff participates in a survey that identifies our most significant work over the previous twelve months. Yet the fifteen choices below—not intended to be listed in any order of importance—only scratch the surface of what we achieved across our dozen programs and centers. What you'll see, however, captures the breadth, depth, and diversity of our work.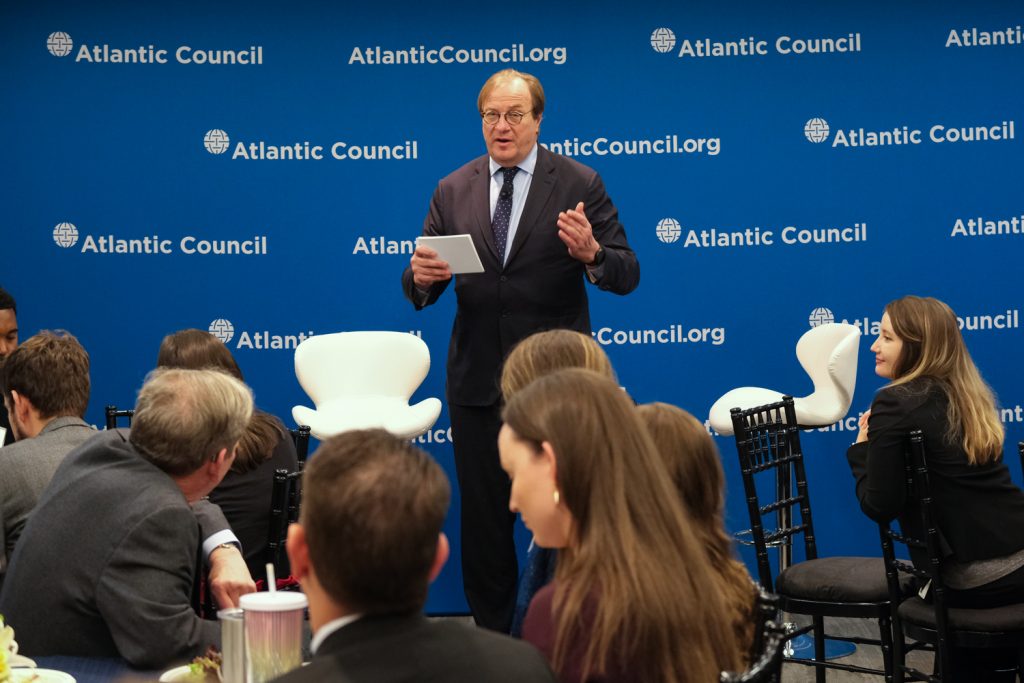 Our list includes the launch of our newest center, the Adrienne Arsht-Rockefeller Foundation Resilience Center, aimed at making a billion people in the world more resilient, particularly in the face of environmental threats. And it includes the significant first step of our Digital Atlantic Council project, the launch of our new website.
You'll see several projects aimed at strengthening democracies, crucially through our ground-breaking work against disinformation, and at reinvigorating the rules-based international order. We continue to lead on issues regarding our transatlantic core, from the future of NATO to our relations in Central Europe. At a time when Ukraine was becoming a bitter US political and impeachment issue, we continued our crucial work on defending the country's sovereignty and supporting its reforms.
We worked on regional challenges around the world, from Sudan, where democracy advanced, to Venezuela, where authoritarianism deepened. In the Middle East, we tracked a new major power competition involving Russia and China. In Asia, we worked to revitalize relations with allies, and in India, we worked to improve trade relations.
We galvanized communities that address issues ranging from the future of energy to the geopolitics of technological change, setting the stage for a new GeoTech Center launch in 2020. And we continued our efforts to prepare a next generation of leaders to wrestle with this challenging world.
We did all of that in the non-partisan, values-driven manner that has defined the Atlantic Council's work throughout its fifty-eight-year history, always working alongside allies and partners to achieve significant, sustainable results.
We hope you find this list informative and inspiring—as we do.
Here are the highlights from a busy 2019:
Frederick Kempe is president and CEO of the Atlantic Council. Follow him on Twitter @FredKempe.