Exclusive release of the Transatlantic Charter
A transatlantic charter on Afghanistan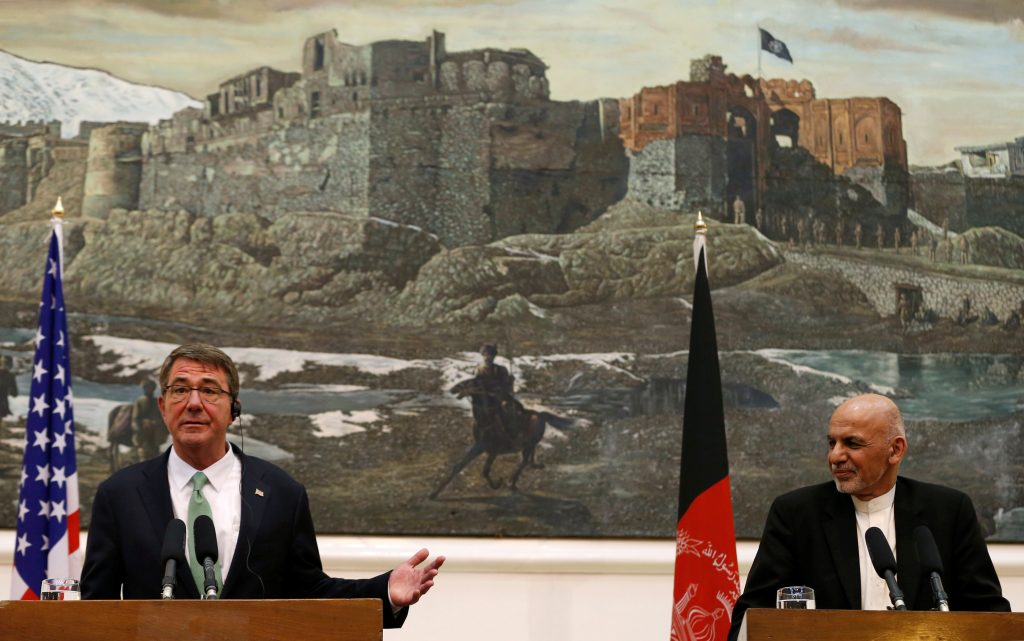 Over the last year and a half, the United States has invested significant political capital to create the conditions for an inclusive and justice-oriented political settlement in Afghanistan and the withdrawal of its military forces. That said, policy discussions are preoccupied with troop numbers and the steps needed to sustain and support the ongoing peace negotiations. Less attention has been given to the range of conditions, variables, and policy instruments to secure a stable, future Afghanistan that better supports its people as well as regional and international security.
To this end, the Atlantic Council's South Asia Center hosts a series of private, high-level strategic dialogues to develop and advocate for a longer-term strategic outlook to ensure peace and stability in Afghanistan while maintaining US and European counter-terrorism interests. This effort will look beyond the US elections, recognizing that while a political consensus is emerging to support a drawdown in US security commitments, no such consensus exists on the long-term relationship with Afghanistan.
Convened in partnership with the Rockefeller Brothers Fund, this dialogue will serve two crucial functions:
To develop a shared understanding of the key political, economic, and security factors critical to sustaining peace and security over the long-term and to preventing collapse in the short-to-medium term, whether or not a peace agreement is finalized.
To consider the range of policy tools and levers available to the United States and Europe in order to develop a multilateral approach to Afghanistan that aligns interests, values, and resources across allies.
Overall, the dialogue will equip high-level officials with fresh analysis and forward-thinking policy ideas that can support a lasting strategic relationship between the United States, Europe, and Afghanistan around shared interests and values.
Understanding Afghan peace with expert advisor Kate Clark
To support the Strategic Dialogues, a prominent expert advisory group–bringing together diverse expertise and experience from the United States, Europe, and Afghanistan–provides ongoing analysis and expert input both for and in-between sessions.
Relevant reading
Leadership
Public-facing recommendations
While the strategic dialogue sessions will be private and conducted under the Chatham House Rule, the findings of the conversations will be made publicly available as a series of issue briefs containing proposed recommendations for joint US and European engagement with Afghanistan, with options from minimal expenditure of resources to a more robust engagement and financial support. The final report will present a pragmatic, informed strategy for US-EU-AFG engagement, uniquely reflective of a more robust conversation between Afghanistan's allies and the voices of the new generation of Afghans.
The strategic dialogue presents a unique contribution to the policy debate on Afghanistan, as it will include the narratives and experiences of stakeholders who are too often left out of debates on their future. These include ordinary Afghan citizens—especially women and other marginalized groups—civil society, and young leaders engaged in peace-building, security, and inclusion. The release of policy papers and recommendations will be staggered to accommodate the constantly-changing nature of Afghan affairs, ensure that the latest developments are incorporated into the discussions, and that the task force recommendations reflect realities on the ground.


The South Asia Center serves as the Atlantic Council's focal point for work on the region as well as relations between these countries, neighboring regions, Europe, and the United States.


The Rockefeller Brothers Fund advances social change that contributes to a more just, sustainable, and peaceful world.
Related content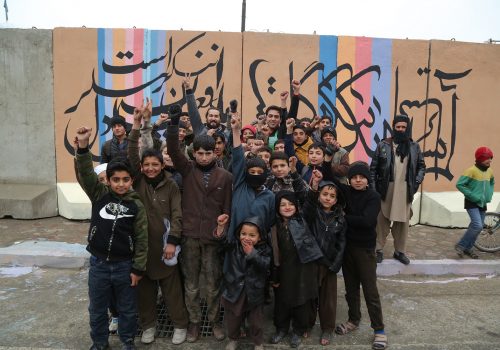 Tue, Nov 17, 2020
Art can be used as an outlet for self-expression, but also as a tool to advocate for human rights. Through art, we can share the untold stories of the civil society, win back the hearts and minds of our fellow citizens, and send a clear message that activism in South Asia is vigorous and flourishing, and—in a region that continues to face many challenges—demonstrate that change is possible.
Photo Essay by Kabir Mokamel and Omaid Sharifi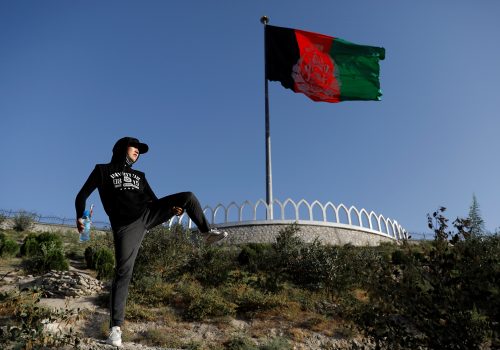 Fri, Nov 13, 2020
Withdrawing quickly would end any hope for a decent and responsible peace agreement in Afghanistan, and would also put to rest any prospect that Trump's legacy might include taking credit for the Afghan peace process that he and his Afghanistan team took the lead in creating.
New Atlanticist by James Cunningham, John Negroponte, Ronald Neumann, Hugo Llorens, Richard Olson, and Earl Anthony Wayne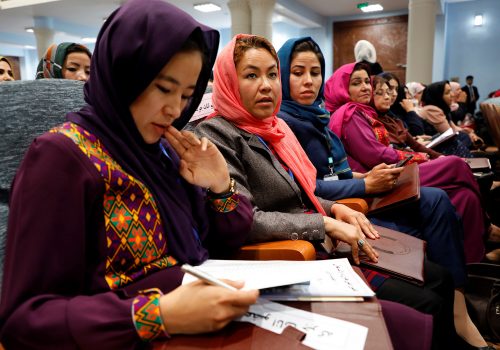 Wed, Oct 28, 2020
The progress Afghan women have made in the years since the fall of the Taliban regime could be at risk, Ghani said, should the Taliban be given too much power as part of a peace settlement.
Diversity, Equity, and Inclusion by David A. Wemer