Join us for our upcoming event or re-watch the most recent one by clicking just below!
Fri, Jul 9, 2021
On July 9, Inkstick Media published the first of NAEI's Adults in a Room series, which features insights from participants in NAEI's private monthly networking sessions. The topic of this month's installment was the outcomes of the Biden-Putin summit and included submissions by Trey Herr, Julian Mueller-Kaler, Miranda Preibe of RAND, and Olya Oliker of […]
In the News by Atlantic Council
Mon, Jul 12, 2021
On July 12, Christopher Preble was quoted in a Politifact article examining President Biden's promises to withdraw US troops from Afghanistan. "The American people's continued support for withdrawal, including a number of veterans groups, appears to have had much more of an impact than the worsening security situation inside of Afghanistan. Most Americans recognized some […]
In the News by Atlantic Council
Fri, Jul 9, 2021
On July 9, Emma Ashford's book review of Kyle Lascurettes' new book on the history of World Order, entitled "Orders of Exclusion: Great Powers and the Strategic Sources of Foundational Rules in International Relations", was published in an ISSF/HDiplo roundtable. "The book offers a number of important lessons for today's policymakers. Lascurettes is clearly correct […]
In the News by Atlantic Council
A series of issue briefs questioning a major assumption, or related series of sub-assumptions, underlying US foreign policy.

Wed, Feb 3, 2021
Policymakers should intensify efforts to understand the scope of ambition of other states, focus less on forward deployment and engage in reassurance measures.
Assumptions Testing Series by Emma Ashford

Thu, Mar 4, 2021
Policymakers should cultivate more realistic expectations about the likelihood that their coercive threats will work as intended, evaluate their full costs against their potential benefits, and invest more in deterrence and defense.
Assumptions Testing Series by Erica Borghard
Follow our work on Twitter @ACScowcroft and connect with us using our hashtags #NAEI and #FutureForeignPolicy.
A series of succinct and straight-to-the-point memos designed for busy professionals anxious for pragmatic and timely policy options.

Thu, Jun 24, 2021
The core assumptions underpinning US policy in the Middle East—ensuring oil flows, maintaining Israel's security, preventing the rise of a dominant hegemon, and countering terrorism—have been upended by new realities.
Reality Check by Robert A. Manning, Christopher Preble

Mon, Jun 14, 2021
The Biden administration has released an Interim National Security Strategic Guidance (INSSG), a stepping-stone to a full National Security Strategy (NSS). Although this document presents a more realistic vision of the world than the Trump administration's NSS did, the INSSG still contains some questionable assumptions.
Reality Check by Emma Ashford

Fri, May 14, 2021
The Biden administration has been slow to distribute surplus COVID-19 vaccine doses to countries in need or to facilitate foreign manufacturing of vaccines, squandering a diplomatic opportunity and potentially endangering US security.
Reality Check by Evan Cooper, Mathew Burrows
NAEI events explore key underlying assumptions that have guided US foreign policy to embrace new perspectives in the way the United States engage with the world. These discussions convene experts from traditionally underrepresented groups in Washington foreign policy circles and those who represent a range of viewpoints.
NAEI produces timely commentaries and short analyses on a wide range of issues to inform and provide the foreign policy community with pragmatic recommendations.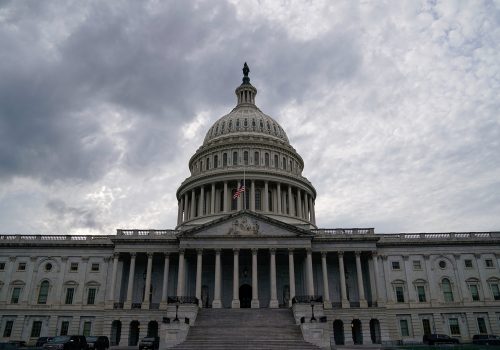 Fri, Apr 16, 2021
What does it say about our system of government that hard truths are not absorbed? This year's Annual Threat Assessment and Global Trends 2040 are blunt about the challenges facing the United States. But the warnings about China should have been heeded a decade or more ago.
New Atlanticist by Mathew Burrows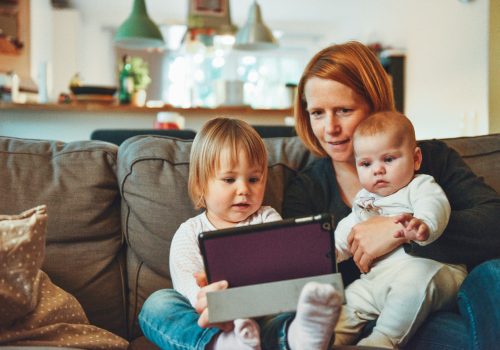 Tue, Mar 16, 2021
There's a silver lining to parenting in a pandemic: It's an education in the core concepts of international relations, as well as a useful reminder that we're all operating in a condition of anarchy. Here's a mom's primer on deterrence, coercion, credibility, and reassurance.
New Atlanticist by Emma Ashford, Erica Borghard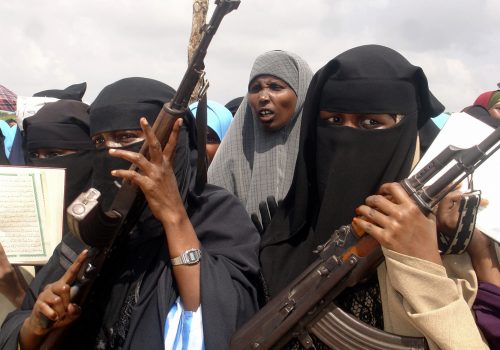 Mon, Mar 8, 2021
There's a disconnect between rhetoric and reality when it comes to women's roles in peacebuilding and development projects because the discussion about women overwhelmingly focuses on them as victims of conflict and political violence without also recognizing them as participants in it. That's a problem.
New Atlanticist by Aude Darnal